Back in June, 24/7 Wall St. published an article on the 10 Worst Companies to work for, based on its analysis of reviews on Glassdoor.
Three companies — Family Dollar Stores, Express Scripts, and Forever 21 — received the lowest ratings.
I thought it would be illuminating to take a closer look at these companies and compare their ratings on Glassdoor to their employer branding and see how the messages stack up.
No. 3 Family Dollar Stores
Family Dollar is an American variety store chain in the United States. With over 8,000 locations, it is the second-largest retailer of its type in the United States.

From the Family Dollar Stores website:
Our career development track offers you the chance to choose the path you'd like to follow, at your own pace. Family Dollar offers long-term, rewarding careers to those who are looking to broaden their retail experience.
A review from Glassdoor: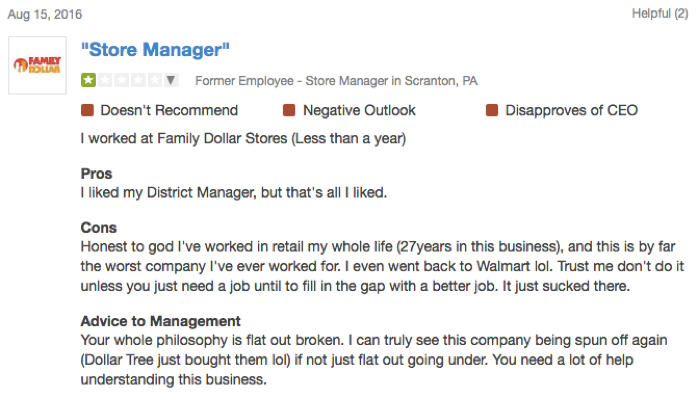 My employer branding comments:
The good news is that other than what's embedded within the job description, Family Dollar's website doesn't make any claims about it being an Employer of Choice. A link from its Careers tab takes you directly to a landing page where one can search jobs by category and enter into their applicant tracking system. A quick check on its career tab on Linked In shows the headline "Everyday Amazing People" (pictured at the top of this post) I guess these people are Amazing, since they've chosen to work for such a poorly rated employer. 
My advice to management:
Take a few tips from your parent, The Dollar Tree. It has a bit more information on its careers site about what it's actually like to work there, along with additional details about its core values. And, as its numbers below might indicate, it seems to help its ratings.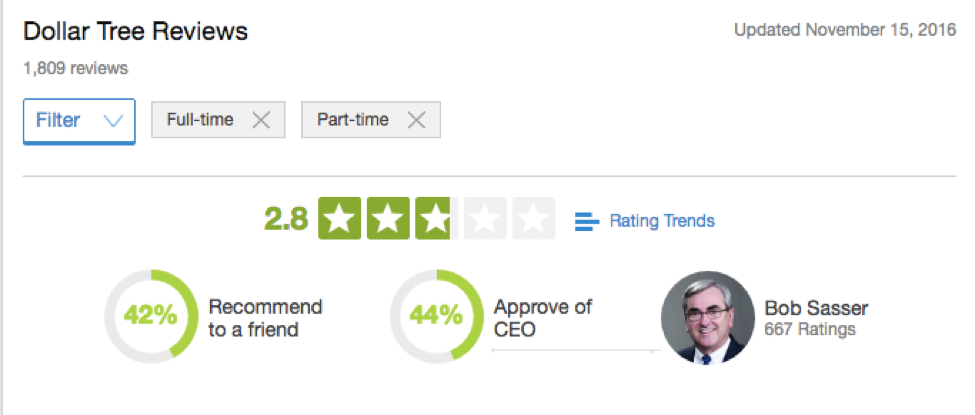 No. 2 Express Scripts
Express Scripts Holding Company is a Fortune 100 company and the largest pharmacy benefit management organization in the United States.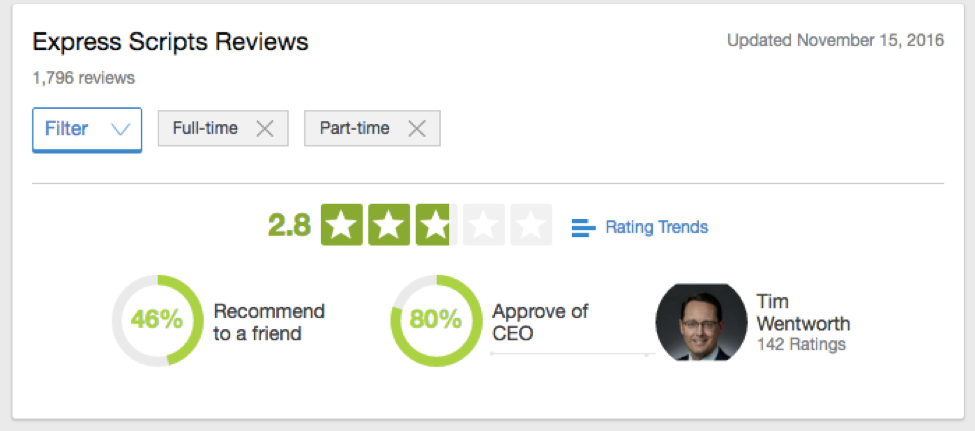 From the Express Scripts website: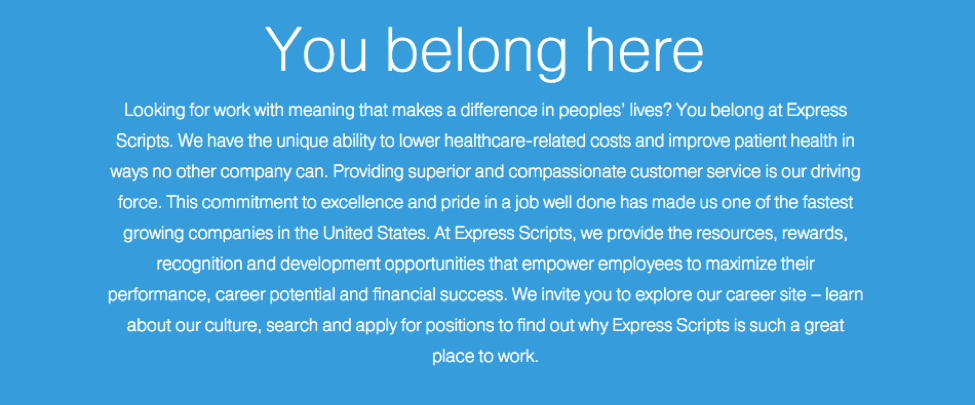 A review from Glassdoor: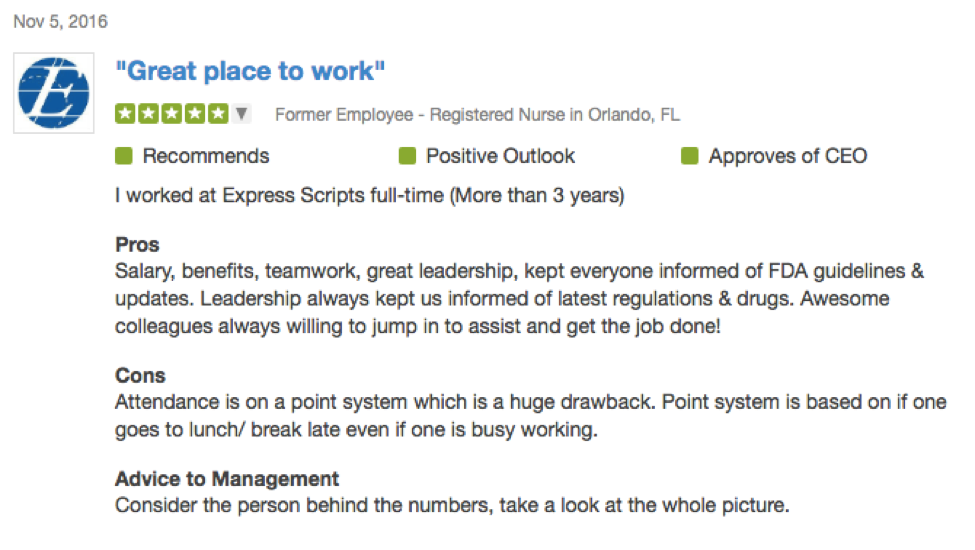 My employer branding comments:
Express Scripts' rating has risen by .3 percentage points since the time the 24/7 Wall St. article was written. Still shy of the 3.2 average Glassdoor rating, it is certainly on the right track. Earlier this year, Tim Wentworth took over as CEO and since then, the Glassdoor CEO approval rating has also gone up by 1 percentage point. While its positioning statement "You Belong Here" may not entirely be true for all, it certainly appears that it is a better time to consider careers with the company.
My advice to management:
Consider a boomerang recruitment campaign and try and win back some of the people you may have been sorry to see leave.
No. 1 Forever 21
Forever 21 is a chain of fast fashion retailers with over 600 stores in the Americas, Asia, the Middle East, and the UK.

From the Forever 21 website: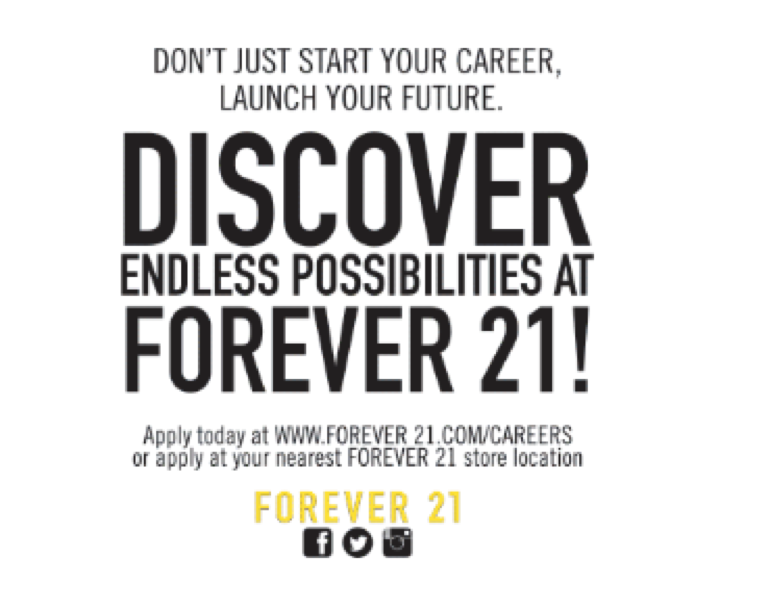 "When you join the Forever 21 family, you will enjoy a fast-paced, exciting work environment with tremendous opportunities for growth. We are committed to challenging fashion boundaries, acting on behalf of our customers, and demonstrating passion in all that we do.
Forever 21 is committed to nurturing your talents and supporting your career goals with our fun work environment, team culture, and core values."
A review from Glassdoor: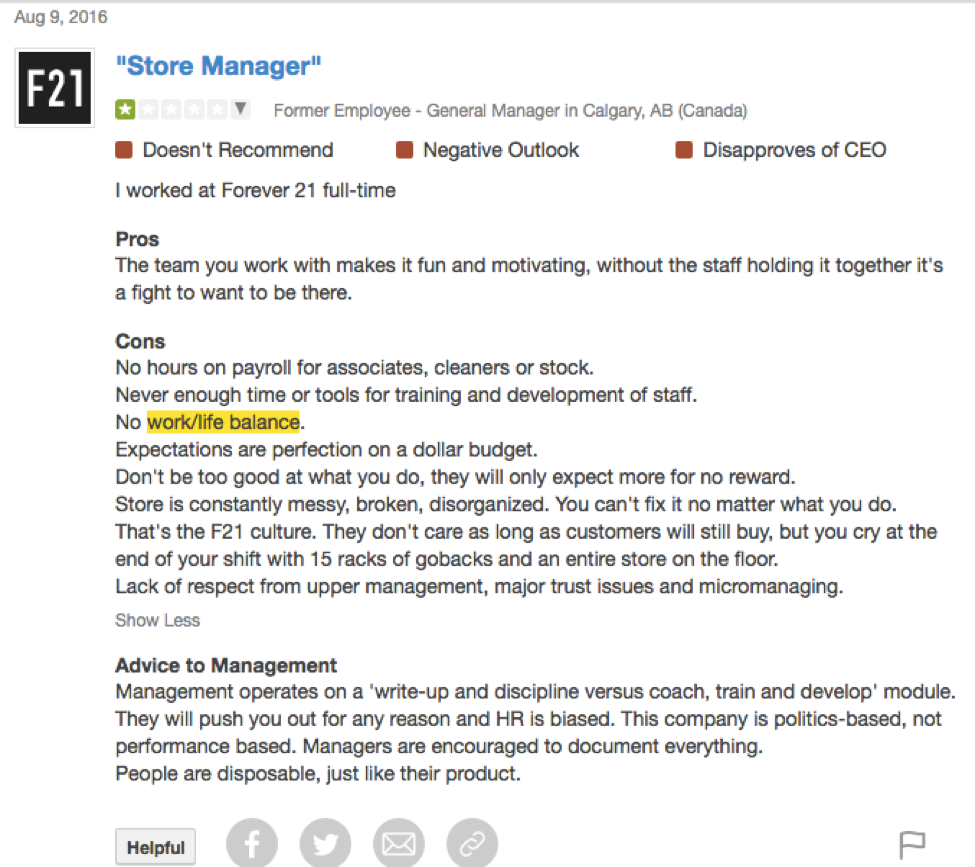 My employer branding comments:
Of the three featured companies, this is probably the best in terms of employer branding. It recognizes that this might be a first job for many of their prospective employees, and embeds the value proposition of career growth vs just a job. Now if only it's true.
My advice to management: 
A look at Forever 21 sales over the past year show a significant decline. While there are many factors that might influence this slowdown, studies link profitability to employer branding. This from Glassdoor "For example, when we looked at the Glassdoor Best Places to Work list over the last eight years we found that, on average, those businesses outperformed the S&P 500 by 122 percent."
Take time to think about how to truly engage your talent and drive a grassroots effort to turn things around. Your employees are your customers and each one of them has a potential sphere of influence of more than 100-1,000 connections.  That's a lot of buying power