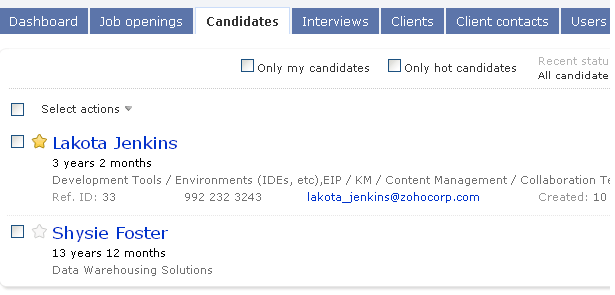 You post, you tweet, you activate social media, yet all the work you do to attract talent can go to waste if your applicant tracking system is too burdensome for candidates and your recruiting team. If you choose a strong applicant tracking system, your results will improve, candidates will have a great experience, and hiring managers will see more on-target resumes. A poor decision will have serious adverse effects costing you unhappy hiring managers, lost candidates, money, time, and frustration.
The following is a primer on things to take into consideration when making your decision on an applicant tracking system. It takes time and research, but the payoff will be well worth the effort.
Company profile. Ensure you are acquiring an ATS that works best for your particular needs. There are three company profiles for users in the ATS field: enterprise, staffing agencies, and small/medium businesses. Although a vendor may claim their ATS is best for your company profile, don't take their word for it. Read independent reviews,  ask for references of companies that are similar to your size and needs, and ask them.
Ease of use. Your team should be able to use the system easily with minimum training. This will save you time and money, and your team will get a lot of use out of the system, making the investment worthwhile. You will find vendors will offer a number of bells and whistles, which may be confusing.  Ultimately, what is most important is whether it is easy to set up, intuitive, and requires minimal maintenance. A sample of questions you can ask the vendor: Is there a dashboard for the internal recruiter and/or hiring manager? Can you take us through the process for searching candidates and tracking applicants? Can we configure the system ourselves, or do we have to place an order (with the vendor) for changes each time? (This usually takes many days and is costly.) If your system needs to have global functionality, does the system have customization for other countries employment laws?
Candidate experience. You will lose many candidates if they have a poor experience using the applicant tracking system. If they have to endure a lengthy and frustrating process because of too many clicks or slow performance, they will give up and leave your site. This is easily overlooked but one of the most important factors to take into consideration when evaluating an ATS. Sample questions: Can you take us through the application process for a candidate? (Look for number of clicks, intuitiveness, performance, and attractiveness.) Can we upload a candidate resume to the site? Are we testing a live system or a demo? (Performance will be different.) Can we do a mock test on a current customer's site?  How do we set up an auto-reply with an acknowledgement of receipt when candidates apply? 
Social networking/job posting. Ask the vendor to take you through their social networking and job posting capabilities. ATS vendors have made great strides in this area in recent years, which for lesser-known companies can be a very important asset as they can gain better candidate visibility. Sample questions: What job posting sites do you have access to? What social networking sites do you have access to? Can you take us through the posting process? (Ensure the interface is simple and easy to use.) If there are sites that cost additional money, can you give us discounts from the job site's standard rates? How are we charged for postings at pay sites … By credit card, or by invoice?
Search and matching. Surprisingly there are still ATS's with poor search functionality. Ensure the searches are accurate, quick, and the results are laid out in a logical format. Learn what type of search engine they use. Make sure you have multiple testers perform actual searches on a live system. Sample questions: Is there a place to put notes and ticklers for follow up? If our needs are global, will the search function screen by country?
Customer support. Customer support is an important factor in your decision, as usability, downtime, and performance issues can be crippling. You would ultimately like your vendor to have a 24/7 customer support team. However, 24/7 customer service is meaningless if the support is poor. Sample questions:  What hours and days of the week is your customer support team available? Is your customer support team comprised of employees or outsourced? Can you provide us with customer satisfaction ratings?  Do you have second- and third-level technical support capabilities? Is your customer support free for all requests?
Reporting. Ensure the vendor has a reporting tool. Don't just ask, but learn what they are reporting on.  There should be information at a minimum for time-to-fill, diversity (in the U.S.), and source of hire, among other things. Sample questions: What reports are standard? Can we configure the reporting tool, so we can run customized reports? If not, do we have to pay each time we need a custom report? How long does a custom report take to be delivered to us?
The cloud vs. IT. Decide whether you want your vendor to maintain and update the system (software as a service), versus your company's IT department's maintaining it. Unless you have dedicated IT resources, go with a product that is updated and maintained by your vendor. You can hold them accountable and do not have to deal with over extended internal IT resources.
Financial viability. Gather data on the vendor's revenue, financial viability, and years in business, as vendors in this space come and go at an alarming rate. For example, when I was at T-Mobile our applicant tracking system vendor went bankrupt. It shut shop quickly and disappeared with its clients' money and in many cases, data. This created a lot of frustration, lost money, and lost time as we and others scrambled to implement new ATS's. Sample questions: Can you please provide us with your financials for the last three years? How many employees do you have? How many in Engineering, IT, and customer service? Can you please provide us with a list of your current customers?
Easy integration. Depending upon your size, you will likely integrate the ATS with another system.  Small companies and most agencies will integrate the ATS with a website, while larger companies will integrate multiple systems. If you are a larger company, learn in great detail what resources the vendor will provide for the integration. Gain commitment as to when resources will be available. Some vendors may be over-extended, so ensure you will have dedicated resources available when you are ready for integration. (Also, ensure you have an internal project manager and IT resource.) If you are a smaller customer, ask what steps are taken to integrate the ATS with your website.
Legal compliance. If you are a company with operations in the U.S., ensure the ATS has tracking tools for legal compliance so you do not expose yourself to lawsuits and fines. If you are doing business with the federal government, it is imperative that you are OFCCP compliant. (The OFCCP is responsible for ensuring that employers comply with the laws and regulations requiring nondiscrimination.) Even if you are not doing business with the government, the ATS should have tracking tools for race, sex, etc.
Performance. Slow performance and down time can lead to lost candidates, frustrated users, and lost opportunities. Learn about the vendor's up-time percentage record and the ATS's speed. Sample questions: Can we do testing on live systems? What is your record regarding system outages? Where are your data centers/servers located? Are your servers located at multiple sites? (If their servers are located at one site and there is a natural disaster, you may have a lengthy down time.) If the sales representative cannot answer your questions, ask to speak with someone in IT.
Internal candidate portal. For enterprise customers, internal movement is an important means to a healthy workforce and employee retention. Ensure that the ATS has a portal for employees to access, and that it is attractive and intuitive. Sample questions: Do you have a separate portal for internal employees to view positions? Will the internal recruiter be pinged when an internal employee applies? Can the internal recruiter post positions for internal employees' eyes only? Can positions be posted for external and internal viewing concurrently, with editing capabilities for internal jobs?
Employee referral portal. For enterprise customers, the ATS should have a separate portal for employees to refer their friends. Evaluate for the user experience, for both employee and the candidate. Sample questions: Do you have a separate portal for employees to refer candidates? Does the employee receive acknowledgement? Does the candidate receive acknowledgement? Does the internal recruiter get pinged when a referral has been sent in?
Ownership of data. You may eventually change vendors, or change your business, so you will need your data. Ask the vendor if you can download your candidate resumes and records. If they say yes, then pry further so you understand exactly what records you will receive and in what format. Sample questions: How do we request a download of our candidate data? Can we download the candidate data ourselves? What format will we receive the data in? Will there be a charge for these services? Can we have a reference of a company that has downloaded their data?
References. This is an absolute must. Ask the vendor for at least five references. Prepare a list of questions based on the 15 bullet points above. If possible, make sure you have at minimum an internal recruiter, an IT professional, and a hiring manager included in the meetings.
Do research. You will not find unanimous happy customers for any ATS. But by doing some Google searches and reaching out to industry peers you will gain plenty more knowledge than you will from the vendor's sales team. Reach out. Most people are more than happy to relate their experiences and give you suggestions. Also, ask if you can "try before you buy" or pilot the application. Many vendors will allow you to do so. If you do, make sure you put together a thorough checklist of items to test.
Making the best decision for an applicant tracking system takes plenty of effort. The consequences will be with you for a long time, so do your research now so there are no unpleasant surprises later. For those of you who have been through the evaluation process, I encourage you to share your tips and experiences below.
image at top from Zoho