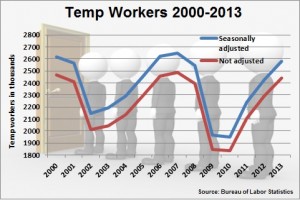 With the addition of 25,600 temp workers to the nation's payroll in May, there are now more workers employed as temps than at any time since before the start of the 21st century.
The Bureau of Labor Statistics reported last week that on a seasonally adjusted basis some 2,679,800 people were employed as temporary workers in the U.S. last month. In the last year, the temp sector has averaged 15,500 new hires a month. Since the recession ended in June 2009, the average is just over 16,000 a month.
On a non-seasonally adjusted basis, temp workers numbered 2,659,300 in May, not far off from the record 2,767,300 temps working in October 2006.
Year-over-year growth, on a seasonally adjusted basis, was 7.5%, a rate of growth five times that of the overall economy's 1.56% jobs increase. In addition, the penetration rate — temp workers as a percent of the overall number of employed workers — rose to 1.98%, bumping against the all time high of 2.03%.
Calling the growth in temp workers "no surprise," Investors Daily's website attributed it in part to the impending ObamaCare implementation. Staffing firms can provide workers to employers who, if they made direct hires, might hit the 50 worker threshold when they must provide affordable health plans or pay a fine. Temp providers can also help employers from having to classify project workers as full time, requiring them to offer them a health care plan.
However, staffing firms themselves have to carefully monitor their workforce size, since they, too, can become subject to having to provide a health plan once they reach their 50th worker.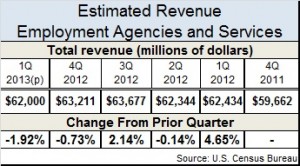 The Census Bureau, meanwhile, last week released 1st quarter revenue figures for the employment sector. (Temp makes up the largest part of this sector, which also includes employment agencies, registries, search firms, and professional employer organizations.) The bureau said all firms in the category collectively brought in $62 billion on a seasonally adjusted basis, down 1.9% from the $63.211 billion reported for the 4th quarter of 2012. On a same quarter basis, the Census Bureau reported employment firms brought in $62.434 billion last year.