Alone among the publicly held HR technology companies, Taleo reported it both grew revenue and earned a profit in 2009.
The company released its financial results for 2009, today, which, its chairman and CEO Michael Gregoire called, "A truly outstanding year."
Taleo had revenue of $198.4 million and profit of $1.3 million. In 2008, Taleo lost $8.1 million on revenue of $168.4 million. The bottom line got a huge boost in the 4th quarter when the company's profit was $4.6 million, which included a one-time $2.5 million from the purchase of Vurv 18 months ago.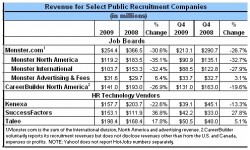 Excluding certain items, Taleo's earnings were 23 cents a share for the quarter, handily beating analysts' 17 cent a share expectation. (Those "certain items" refer to accounting adjustments to exclude one-time windfall benefits unrelated to the operation of the company and expenses that must be reported, but which typically don't have a direct out-of-pocket cost.)
For the current year, Taleo's CFO Katy Murray predicted total revenue of $225 to $227 million and earnings per share similar to the 77 cents per share the company earned in 2009.
During a question-and-answer session with analysts, Gregoire credited an increase in SMB sales and the company's broad product line for boosting sales.
Customers are up-buying into compensation and other products, he said. "Large deals seem to be back," Gregoire noted, adding those deals "are not just for recruiting."
Even though the recovery in the U.S. is still tenuous, he told analysts that there is a definite uptick in hiring and large numbers of seekers. Together, that creates "quite a bit of volatility in the market," and is prompting companies to embrace technological solutions.
Taleo, which Gregoire pointed out did not have a layoff during the recession, has accelerated its time to market schedule and will be moving some product introductions, including in performance management, to the summer.
The company, he said in a pre-recorded statement, prior to the Q&A session, will make "targeted investments in sales and marketing, specifically around increasing our momentum in Performance and Compensation, as well as in R&D, where we'll be accelerating the delivery of several new products that were originally planned for late 2010 or early 2011."