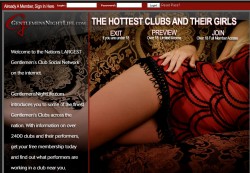 With the recruiting industry stuck deep in the recession rut, it's no surprise that companies are looking to diversify.
The RightThing, an RPO, acquired AIRS, a technology and training firm, in 2008. About the same time, CareerBuilder launched Personified, a recruitment consulting and outsourcing business. Two months ago, recruitment technology vendor Taleo acquired Worldwide Compensation, a comp management technology and services provider.
The oddest diversification, though, has to be TalentHook's launch of a directory of, ahem, gentlemen's clubs and their entertainers. The company that provides resume search software to hundreds of employers now lets you search for what less euphemistically are called strip clubs.
Gentlemen'sNightLife.com claims that it has "information on over 2,400 clubs and their performers." I did not test that claim, at least not thoroughly, though I found that the performer list was limited to only a handful of cities right now, including Las Vegas, TalentHook's headquarters.
I did find a number of fields you won't find in TalentHook Sphere, a resume sourcing tool that searches out resumes from the public web and pay boards. On TalentHook Sphere you find fields for experience, salary, and education, among others. On GentlemensNightLife you search for breast size, butt, and body, among others.
It looks to be a membership site, since there is a signup page and a member login. So the searches I was able to do might be limited as a preview.
I emailed Phil Gonzalez, owner of both GentlemensNightLife and TalentHook, but he didn't get back to me.