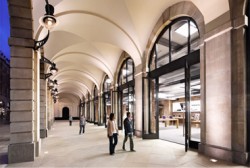 This past August Apple became the most valuable corporation in the world based on market capitalization, surpassing every firm in the technology industry and every other industry! As a consumer products company, its prolonged growth spurt is even more amazing because it has continued through economic times when consumers are reluctant to spend what little they have. Considering that Apple was near bankruptcy in 1997, its story is both extraordinary and noteworthy.
The extraordinary valuation is not a result of 30+ years of stellar performance. Apple has failed at many things. Its success isn't the result of access to special equipment, manufacturing capability, or a great location, but rather superior leadership, access to great talent, and unusual talent management approaches.
Almost everyone in business is aware of Apple's amazing product success and the extraordinary leadership of Steve Jobs. Some authors have described the firm's approach to HR, but few have analyzed the firm close enough to identify why the approaches work. Visits to the headquarters and interviews with HR leaders convinced me that there are lessons to be learned from this company. After two decades of researching and analyzing Apple's approach to talent management, I have compiled a list of the key differentiators.
If you are a manager at another organization and you want to duplicate its results, this case study will give you direction.
Apple Talent Management Approaches to Emulate
This three-part case study covers the many talent management factors that contributed to Apple's extraordinary success in workforce productivity and innovation. It does not focus on the many important things that Steve Jobs did at Apple, because such things are not easily copied by others. It also focuses primarily on the approaches used within Apple's corporate facilities versus those of Apple's retail operations.
Agility Allows for Innovation into Completely New Areas
Many firms develop the capability to dominate their industry. Procter & Gamble, Intel, and Toyota are excellent examples. Apple is in a different league, however, because it has demonstrated the ability to shift into and dominate completely new industries every few years. For most of its history, Apple was a computer company (and its name used to be Apple Computer), but in the last decade Apple tackled the music industry with the iPod device and iTunes distribution channel. Next Apple conquered and dominated the smartphone industry with the iPhone and "App Store." Most recently Apple challenged the PC as we know it and is in the process of disrupting the publishing industry. This ability to successfully shift from one industry to another in a few short years is known as agility. In my book, even wildly successful firms like Google, Facebook, Toyota, or Procter & Gamble can't come close to matching Apple's agility track record.
A great deal of Apple's agility comes from the direction and vision of its senior leadership and its corporate culture, which reinforces the need to get ready for "the next big thing." While Apple looks for agility in talent, the real key to Apple's agility occurs post onboarding. At Apple, there is a cultural expectation that after succeeding in one task, you will immediately move on to something completely different. You know that you will have to retool and learn quickly. The expectation of radical change eliminates resistance and sends a message that employees can't rest on their laurels. That means that they must mentally prepare for (and even look forward to) the next extraordinary challenge, even though you will get almost no "career path" help in determining which is the next best challenge for you. Apple employees work in numerous disconnected team silos, competing against one another with little or no foresight into the purpose or intended use date of their work.
The rapidly shifting work load means than an employee bored with their work won't be for long because the work and the focus will change, a major attraction factor that brings in recruits desiring the challenge of radical change. Looking at the big picture, Apple's ability to move into and dominate completely unrelated industries is only possible because of its extraordinary talent, the way that it manages it, and its approach to building an image that attracts the new skills needed to successfully move into completely new product areas.
A "Lean" Talent Management Approach Contributes to Extraordinary Productivity
Most firms strive to have a productive workforce. One of the best ways to measure workforce productivity is revenue per employee. Apple produces what can only be considered extraordinary revenue per employee; $2 million. A second measure of workforce productivity is profit per employee: nearly $478,000 for Apple (unbelievable considering it has a retail workforce).
If you are familiar with the concept of lean management, then you'll understand the prime drivers for Apple's extraordinary employee productivity. For years, the leadership of Apple has followed the philosophy that having less is more, meaning that by purposely understaffing and operating with reduced funding, you can make the team more productive and innovative.
Innovation at most firms is expensive because you must pay for a lot of trial and error. The lean approach, however, can improve innovation because with everything being tried, there simply isn't enough time or money for major misses and re-do's. "Unrealistic deadlines" at Apple mean that you have to get project problems solved early on, because there isn't time to redo things over and over. Being lean forces the team to be more cohesive. Even providing a lean schedule forces everyone to be productive because they know there is no room for slippage. At Apple, the lean approach means that even with its huge cash resources, every employee must adopt the mentality of leanness. If you understand the lean concept and its advantages, you shouldn't be surprised that numerous innovations have been developed in "garages," the ultimate lean environment.
Build and Reinforce a Performance Culture
Any business analysis of Apple will reveal its laser focus on producing industry-leading results. While some feel the performance emphasis comes solely from Steve Jobs, the "performance culture" is continually reinforced by operational processes and practices. For example, having stock as a primary motivator forces employees to focus on the performance of the company and its stock. The rewards and recognition programs at Apple don't include a component for effort or trying — only final results. Rather than celebrating numerous product milestones, only the final product unveiling is worthy of a major celebration.
A performance culture requires significant differentiation based on performance, and it's clear that in this culture, the top performers and those who are working on mission-critical products are treated significantly differently. In fact, current and former employees frequently complained about the special treatment given to those designated as the "top 100 most important employees."
Treating top performers differently may cause some employees to be disgruntled, but treating all employees exactly the same will frustrate your high-impact top performers and cause them to leave. Functions receive different funding also, based on their potential impact. Overhead functions that don't directly produce product (i.e. HR) are often underfunded compared to product producing functions like engineering and product design.
Although there is certainly politics at Apple (where marketing seems to rule), having a degree from a prestigious school or past success on other products won't get you far in the highly competitive culture at Apple. Jobs has no degree at all. The internal competition is fierce (even though they don't know what other teams are doing) to develop or contribute to the most-talked about feature for the next WOW product.
Rather Than a Work/Life Balance, Emphasize the Work
Numerous HR functions proudly and prominently push work/life balance. Like them, Apple is proud of its long-established culture. You won't find the term "balance" anywhere on the career site; instead, Apple makes it clear it is looking for extremely hard-working and committed individuals. On the website, for example, it proudly states: "This isn't your cushy corporate nine-to-fiver." It reinforces the "hard work" message several times, including "Making it all happen can be hard work. And you could probably find an easier job someplace else. But that's not the point, is it?
And: "We also have a shared obsession with getting every last detail right. So leave your neckties, bring your ideas."
If you don't care about getting every precise detail perfect, great work, and a lot of it, Apple makes it crystal clear that this is not the place for you.
Next week: Part 2 — more talent management approaches to copy and learn from.