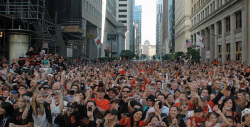 The World Series is over and the San Francisco Giants won. Whether you are happy or upset with the outcome, you should analyze what it took for them to win and determine what talent management lessons can be learned. Major league baseball has always been a leader in measuring employee performance, developing precise measures that look at every aspect of performing key activities on and off the field. If you look a little deeper, you might find that its best practices are several levels above those found in the average corporate environment.
Some of lessons and takeaways I've gleamed from this past baseball season that relate to corporate talent management include:
Lesson #1 — Identify Critical Success Factors and Prioritize Around Them
There are three key activities in the game of baseball: pitching, playing defense and hitting. By analyzing years of data, the Giants identified that winning championships required great pitching and strong defense. Hitting will get headlines, attendance numbers, and fan support, but is less important than pitching and defense in winning championships.
The Giants prioritized pitching in its talent management plan and recruited and developed the best pitching talent. As a result, it had the best pitching statistics in the league and earned only mediocre batting statistics.
Corporate talent managers need to embrace prioritization because it's simply not possible to acquire/develop the best talent in every single business area or job. If you treat all positions equally, you are dooming your firm to mediocrity. Every industry has critical success factors, so it must prioritize around them. Recruiting leaders must identify and focus resources on high-business-impact positions first. Google for example realizes that engineering, product innovation, and generating advertising revenue are the critical success factors in their industry, so it focuses its recruiting, development, and overall management into those three areas.
Lesson #2 — Continuous Talent Swapping Is Needed
Both World Series teams this year proactively churned employees; in other words, swapped talent to address weaknesses on the team. Instead of sticking with the team rosters that they began the season with, general managers have learned to be "continuous talent scouts," recruiting talent that can improve the team's chances of winning. The Rangers added pitching talent when they acquired high impact star pitcher Cliff Lee, jettisoning two starting pitchers previously on the roster in the process. The Giants also acquired several high-impact players as a result of midseason trades and waiver acquisitions.
Corporate talent managers are almost universally reluctant to "swap" underperforming talent or even acknowledge that some people no longer fit the current needs. Every corporation should have a swap program that enables recruiters to continuously source for high-caliber talent in mission-critical and key roles, opting to swap when external talent of a caliber greater than that currently inside the organization is encountered. Don't try to keep or retrain every employee. Proactively release a significant percentage of the workforce in order to make room for available external talent that can markedly improve team performance.
Lesson #3 — Contingent Labor and Role Players Add Agility
Baseball GMs are experts in the use of contingent labor to serve as role players. When they have a short-term talent need, they call upon talent that will likely only stay with the team for the duration of the year or just until an injured player returns. During any particular game, managers will use also multiple players in a "temporary role," including pinch hitters, designated hitters, relief pitchers, and pinch runners. This contingent capability allows a manager to add the right talent at the right time but only for the time that it is needed.
In the corporate world, most overemphasize recruiting "permanent" employees, which have no contracted "end date." Corporations routinely use a much smaller percentage of "utility players," and managers are much more reluctant to put a contingent employee into a key role. Talent managers need to develop a contingent labor strategy that fills at least 30% of the roles in the organization with contingent labor. The contingent labor force can flex depending on business needs. Corporate managers must also be more willing to hire regular workers under contract, because this also allows you to keep employees on board only as long as their skills are needed and their performance remains high.
Lesson #4 — Performance Triumphs Age, Tenure, Experience, or Education
The World Series MVP Edgar Renteria is quite old for a baseball player at 35, but obviously he played a key role in enabling the team to win. The Giants also relied on incredibly young players, including a 21 -year-old pitcher (Baumgartner) and two players that look like teenagers (Posey and Lincecum). In baseball great performers get to play regardless of their age or experience. In the same light, baseball has an incredibly short "memory" in that it drops individuals with a history of great performance pretty quickly once their performance slides.
Corporate managers in direct contrast often overly focus on making selections based heavily on education, experience, or tenure, when they should be looking for the best performing talent regardless of its age. Great sports teams purposely recruit top stars out of high school, while most corporations wait four more years to recruit.
Lesson #5 — Global Talent Is Necessary for Winning
Long gone are the days when the best baseball players come from within a commuting distance of the baseball stadium. The Giants series MVP came from Columbia and nine players are from Caribbean or Latin countries.
The key lesson for corporate managers is that diversity is more than a legal issue. The ability to attract and retain the best talent from around the world is an absolute requirement if you expect to dominate your industry. It might be harder work to find global talent, but the rewards are significant.
Lesson #6 — Castoffs Can Be Major Contributors
The general managers of baseball teams rely heavily on talent poaching. The Giants excelled this year in no small part as a result of the acquisition of what some would call "castoffs" that were waived by other teams.
Corporate hiring managers need to learn to avoid stereotyping those released by other firms. Everyone involved needs to realize that these "released" individuals could have been let go because they were "duplicate" talent or because they were not effectively managed.
Lesson #7 — Superstars Are Important, but So Are Role Players
Almost all sports teams focus on their superstars and their key positions. Both of this year's World Series teams have for example superstar pitchers (Lincecum and Lee) who are paid extremely well and are somewhat pampered. Nevertheless, at the same time, both team's managers insist that every player, including their star players, must understand and meet their "defined role" within the team structure.
Corporations make a mistake when they fail to prioritize and instead treat everyone exactly the same. But they make a bigger mistake when they don't clearly explain to each employee their specific role and the valuable contribution that they are expected to make to team success.
Lesson #8 — Build a Performance Culture
The best teams in baseball and all other sports are laser-focused on becoming and staying No. 1. In order to do that, they develop a "performance culture" that makes winning everything. Vince Lombardi once said that "winning isn't everything… it's the only thing." A performance culture in any industry focuses on recruiting, retaining, developing, differentiating rewards, and making assignments based on performance data and results. Because everyone throughout the organization has the expectation of winning, performance permeates every management aspect of the firm. In baseball, teams like the Yankees, the Braves, and the Red Sox consistently excel during the regular season and later win championships because they have all developed performance cultures.
Unfortunately, many HR and recruiting departments are more focused on "equal treatment" and "avoiding criticism" rather than using the metrics, differentiated rewards, transparency, and basing everything important on performance. It is HR's role to ensure that every management process has as its primary goal measurably increasing individual and team performance.
Final Thoughts
All great professionals try to learn from both inside and outside of their industries. In the area of talent management, I don't know how any corporate talent manager could be successful without studying the three industries that clearly emphasize managing and acquiring talent. Those three industries include entertainment, the military, and professional sports. In each of these three industries, the emphasis on talent is extreme, as are the rewards for success and the penalties for failure.
As a result, I urge everyone to study the successes and failures of teams in the World Series, the Super Bowl, the BCS college football championship, the World Cup, etc. and to adapt the best strategies and approaches to their corporate environment. The lessons to be learned go well beyond the ones I have highlighted here, and incidentally, it's a lot more fun to benchmark the World Series than some mediocre accounting firm.