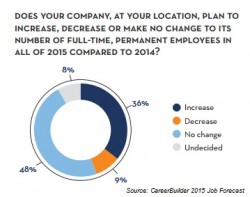 The pace of hiring will quicken in 2015, as more employers plan to add staff than at any time since the start of the recession.
Surveys by a trio of organizations found employers generally optimistic about growth in the year ahead, with more of them than at any time in the past seven years planning to add workers.
Released just this morning, CareerBuilder's annual job survey found 36 percent of employers expect to add permanent, full-time staff this year. That's a 50 percent increase over what employers said at the beginning of 2014.
Manpower's Employment Outlook Survey, released early in December, found similar optimism among employers. The global staffing agency's survey of 18,000+ employers found a seasonally adjusted 19 percent of them plan to add staff in the first quarter alone.
Manpower's Net Employment Outlook of 16 percent for the quarter ahead is the highest it has been since the first quarter of 2008.
ManpowerGroup CEO Jonas Prising, said, "There's a little wind at our backs, as evidenced by the broadly positive hiring plans, and we see that as boding well for 2015."
An even more optimistic prediction comes from the Employer Associations of America. Its 2015 National Business Trends Survey of 1,417 organizations found 52 percent of employers plan to add staff, a better-than-10 percent increase over last year. As recently as 2013, only 34 percent expected to add jobs.
The positions most difficult to hire, the survey founds, are professional staff, cited by 44 percent of respondents followed by skilled production workers (42 percent). Consequently, notes the EAA report, "43 percent of employers plan to emphasize recruiting in 2015, up from 31 percent in 2014."
"The majority of executives surveyed are optimistic about 2015, are confident they will award pay increases, and look to invest in their existing employees, facilities and/or equipment."
The EAA survey skews toward smaller employers, with just over half in the 1-99 employee category. In addition, 43 percent are in manufacturing.
STEM hiring is going to get even more competitive this year, predicts CareerBuilder. Last year, slightly more than a quarter of survey respondents said they expected to add full-time, permanent science, technology, engineering, or math jobs in the year ahead. Now, 31 percent say that. Hiring for IT (54 percent), financial services (42 percent), manufacturing (41 percent), and healthcare (38 percent) are expected to outperform the national average.
Temp and contract hiring will continue to accelerate this year, says CareerBuilder.  Forty-six percent of employers plan to hire temporary or contract workers in 2015, up from 42 percent last year. Of these employers, 56 percent plan to transition some temporary or contract workers into fulltime, permanent roles.
"The U.S. job market is turning a corner as caution gives way to confidence," said Matt Ferguson, CEO of CareerBuilder. "The amount of companies planning to hire in 2015 is up 12 percentage points over last year, setting the stage for a more competitive environment for recruiters that may lend itself to some movement in wages."