Job search company StartWire recently got a $3.25 million investment from Baird Venture Partners. The VC firm, which has invested in other human capital businesses including SnagAJob and Pinstripe, said "Startwire stands out in the human capital sector by addressing a real problem facing job seekers."
StartWire was founded by Chris Forman, former CEO of AIRS, and Tim McKegney, who was previously EVP at AIRS. It launched this year with the promise of helping job seekers avoid the black hole and connect with a network of trusted friends and business connections for advice and job referrals.
Forman said StarWire would use the funds to grow its development team and speed product enhancements, as well as for marketing.
Bullhorn on a roll
Recruiting software provider Bullhorn reported new bookings and paid user count were both up over 40 percent compared to the same period in 2010. Heavy demand pushed usage to over one billion transactions per month, the company said.
The one billion monthly transactions include about 150,000 new and filled job orders as well more than a million job seeker views. Between the company's recruitment CRM and social recruiting product lines, over 45,000 users across more than 5,000 companies rely on Bullhorn.
The company also announced this week the release of  Bullhorn Time and Expense. The new module for its ATS and CRM software platform provides online time and expense management and integration with accounting and payroll systems.
iCIMS partners with Payscale
iCIMS, a provider of talent acquisition and management technology, has partnered with PayScale. Now, iCIMS 1,000+ customers will have access to detailed compensation information for 13,000 job titles in all cities in the U.S., Canada, and seven other English-speaking countries. PayScale solutions allow companies to design and implement a compensation strategy tied to business results and ensure competitiveness in what has been a volatile talent market.
New twist on resume search
Urecuitme.com is a new jobs site that skips the posting part of job boarding, instead selling access to its resume database. Recruiters pay a flat fee to search for candidates, then pay up to $300 to contact those on the shortlist.
The business model is pretty much the same as LinkedIn Recruiter or buying only the Monster or CareerBuilder resume database, though all three sites likely have millions more resumes and profiles than does the Atlanta startup. The other differentiator appears to be that candidates also must take an assessment test as part of the registration process.
Google+ stalling?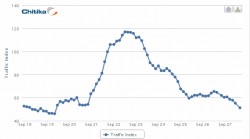 Could be that Google+ has hit a wall. Or it could just be the plateau effect at work (as in loads of publicity generates lots of traffic, that then drops off, but at a higher level where it was prior to the publicity.)
Whatever the cause, Chitka says that Google+ traffic soared 1,200 percent in the days after its public launch on Sept. 20, then fell by 60 percent. The data analytics company is evidently in the "failure to launch" camp, suggesting in prior posts that the site peaked late in July and has been sliding ever since, public launch and publicity notwithstanding.