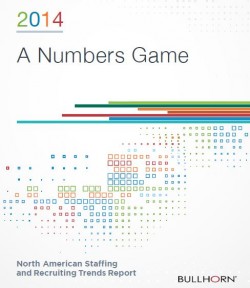 Coming off a strong 2013, recruiting and staffing firms are turning more cautious this year, scaling back both their plans to add staff and open new branches.
"2013 was by almost all accounts a very good year for the staffing and recruiting industry," says a report out this week from Bullhorn, a technology provider that serves the staffing and independent recruiting sectors. Revenue and placements increased last year the company notes in its fourth annual North American Staffing and Recruiting Trends Report.
"However," cautions Bullhorn, "There are signs of a slowdown for 2014." As evidence it cites:
a seven point drop in the percentage (75 percent now) of firms expecting to increase headcount this year, and
a more than 50 percent drop in the percentage of firms planning to open new offices (23 percent now vs. 48 percent last year).
Like their corporate counterparts, the 1,337 recruiters taking part in Bullhorn's survey said the number one obstacle to success this year is the lack of qualified candidates. Close behind were economic conditions and competition.
However, this year, 71 percent of respondents cited the skills shortage, down from last year when that percentage was 76. In that same vein, 50 percent of the recruiters said time to fill improved last year; only 13 percent said it worsened.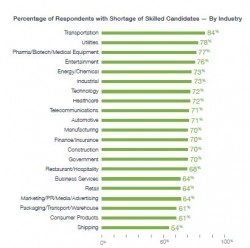 How that question is answered depends, of course, on what the sectors for which a recruiter sources and places candidates. And it depends on whether the position is temp, contract ,or perm. For example, 84 percent of the respondents said there's a skills shortage in the transportation sector, yet the average fill time, even for permanent positions, is 12 days, the fastest of all the sectors.
Bullhorn called the skills rankings "somewhat peculiar," observing that"Technology — which in previous years had a critical shortage of qualified talent is running in the middle of the pack this year." Besides transportation, which came out on top, more recruiters said the shills shortages in pharma/biotech, utilities, entertainment, energy/chemical and industrial all were worse than for tech.
Filling job orders can be as quick as just a few hours for temp workers in restuarnats and hospitality and in construction, or as long as 39 days for permanent healthcare positions. On average it takes eight days to fill temp positions, but as many as 68 days for recruiters working on contingency. Even then, their average fill rate was only 39 percent. At 66 percent, retained search recruiters had the highest fill rate.
When a permanent position is filled, the average fee is $16,602.
One troubling result that employers who turn to staffing and search firms for help should note: nearly half the larger firms — those with 26 to 74 employees — get 70 percent or more of their revenue from a single client. Among all firms, 22 percent of respondents said half or more of their revenue comes from only one client.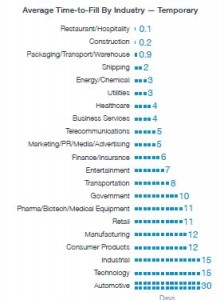 Yet, when Bullhorn asked them what would happen if that one client were lost, only 6 percent said they'd go out of business. Says the report:
While several respondents at small, lower-midsize, and large firms felt at risk of shutting down if they lost their largest client, no respondents from upper-midsize firms (26-74 employees) felt vulnerable. Upper-midsize firms are most reliant on a single client, but are the least afraid of going under if they lose that client.
On the positive side, Bullhorn found that 72 percent of respondents make at least half their revenue from repeat client business. That, notes the technology vendor, "demonstrates the value of nurturing strong customer relationships and delivering sustainable results."
Candidate sourcing methods have evolved substantially since Bullhorn's first survey in 2011. While job board postings are still important and show resilience even as recruiters publicly scoff at the industry, social media is growing in importance, especially for permanent placements.
Bullhorn writes in this 2013 report,
Social media was the most successful source of quality candidates for permanent staffing firms — a major evolution since our 2011 Trends Report found social media to be the least successful sourcing method.
Contract and temp firms, because of their quick response time to job orders, rank social media much less favorably. They lean strongly to referrals and job boards for candidate sourcing.
One other interesting point. Bullhorn asked respondents to write in what they believe to be the single greatest quality of a successful recruiter. By a landslide, that trait is "persistence."