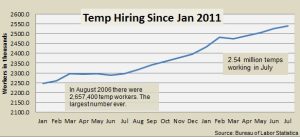 Temp hires accounted for 8.7% of the 163,000 new jobs created in July, according to seasonally adjusted data released this morning.
The report from the Labor Department's Bureau of Labor Statistics showed most sectors of the economy added workers. Only governments and utility industry showed a drop, and the latter sector was down due to a labor strike.The unemployment rate edged up to 8.3%.
The monthly jobs numbers surprised economists who were expecting an increase of 95,000 to 110.000. Nearly all the surveys found economists expecting no change in the 8.2 percent unemployment rate.
July's surprise, which a Barron's blogger called a "rare non-disappointment," was more encouraging than it might seem. The fact that most sectors added jobs signals employers mirrored consumer confidence, as shown by The Conference Board's Consumer Confidence Index. It was up three points in July to 65.9, the first rise in five months.
However, though many employers are still hesitant to hire permanent workers, they are relying more and more on temps to get the job done. The 14,100 workers added last month, brings to 2.54 million the staffing industry has on its payroll. Since  bottoming out in August 2009, the industry has added 789,100 jobs, reports the  Bureau of Labor Statistics.
Staffing Industry Analysts (SIA) estimate that at firms with more than 1,000 workers, temporary employees make up on average 16% of the workforce.
Other employment services, including nurse, casting, and chauffeur registries, and search and placement agencies added another 7,700 jobs, bringing the total for the employment services sector to 3.208 million workers in July.
The American Staffing Association, which looks more closely at the unadjusted employment counts, said using that data temp hiring dropped 43,600 positions last month. Still, for the year, overall staffing employment rose 10.9% compared with the same month in 2011.
"Staffing firms report that their customers are being very strategic about the timing of adding new staff," says Richard Wahlquist, president and chief executive officer of the American Staffing Association. "Until businesses see a sustained increase in demand for their products and services, the economy will continue to be stuck in neutral, adding just enough jobs to keep up with population growth but not enough to reduce unemployment."
SIA issued a similar heads-up a few days ago, saying the growth in new staffing orders has slowed significantly. The consulting group's July Pulse Survey founrd new orders turned down in May and June. Sales are now trending as more difficult.
"The slowdown in temporary staffing continues," said SIA's Robert Balicki. "The apparent turnaround from January-March has dissipated across all segments. Only direct hire remains a bright spot."