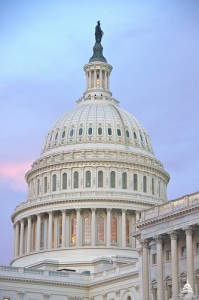 Stiff new immigration laws introduced by Iowa Republican Senator Chuck Grassley could stop staffing companies from bringing in H-1B visa holders.
Declaring that "Somewhere along the line, the H-1B program got side-tracked," Grassley reintroduced legislation tightening up the entire H-1B program. Similar efforts by the Senator last year went nowhere, but with the renewed effort in Congress to enact some form of immigration reform, some of his proposals could get make it into law.
A group of four Democrats and four Republicans –the so-called Gang of Eight — have been working for weeks to come up with a bi-partisan immigration reform bill. Among the thornier problems has been the issue of guest worker visas, especially in regard to the flow of low-skilled workers for jobs in construction.
Creating a path to citizenship, or at least removing or reducing the threat of deportation for the estimated 11 million undocumented immigrants is also part of the reform package the group says will be ready to present to Congress after it returns in April from its spring break.
While Grassley is not a member of the Gang of Eight, his bill is nearly identical to one co-sponsored by Sen. Dick Durbin (D-Ill.) two years ago. Durbin, who is a member of the immigration negotiators, will "strongly support" Grassley's bill, his staffer told the political reporting site, Politico.
The bill is squarely focused on making it more difficult to import workers. In his message introducing the bill, Grassley said, "The (H-1B) program was never meant to replace qualified American workers, but it was instead intended as a means to fill gaps in highly specialized areas of employment.  When times are tough, like they are now, it's especially important that Americans get every consideration before an employer looks to hire from abroad."
Among the key provisions of his legislation is a prohibition from "outsourcing visa holders to other companies." Companies that can show they are not displacing an American worker can get a waiver, so long as it is not a "labor for hire" arrangement.
Other provisions of his bill include:
A prohibition on advertising jobs only to H-1B visa holders;
A requirement that H-1B visa workers be paid the highest of 1) the local prevailing wage for the job; 2) the median average for all workers in the same job classification in the area of employment; or 3) the median wage for skill level 2 in the occupational classification found in the most recent occupational employment statistics survey.
Easier enforcement of the rules by allowing random audits and simplifying the requirements of launching an investigation;
Increasing the penalties for violations and willful misrepresentation.
Many of the provisions seem aimed at Indian staffing firms that recruit tech workers overseas, and specifically include language in their job postings discouraging Americans from applying. Some of these firms pay these workers well below the prevailing wage, or make paycheck deductions for their housing and to recoup the expense of their relocation.
Offshore outsourcing firms recruiting workers for U.S. companies in the States account for about half the H-1B visas issued annually.
That point was driven home Monday during testimony before the Senate Judiciary Committee. Karen Panetta, a professor of electrical and computer engineering at Tufts University, and a former director of the IEEE's Women in Engineering Committee, said over 80% of the visas used by offshore outsourcing firms are held by males.
"It's hard to get promoted when you don't get hired in the first place," Panetta told the committee, according to Computerworld.  When the vast majority of visa workers are male, "this does not make for a diverse workforce or work environment."
Mark Roberts, CEO of TechServe Alliance, told Staffing Industry Analysts that the industry group has expressed its opposition to the bill.
"There is language there that is very troubling to the staffing industry," Roberts told Staffing Industry Analysts. "If it passes as is that would mean no staffing firm could use H-1Bs. That would be a devastating result particularly in the IT and engineering sectors."
The Alliance's 2013 legislative agenda declares:
TechServe Alliance supports legislative efforts to amend the H-1B or other visa programs to permit access to a sufficient number of IT and engineering professionals to meet business needs, any such legislation should not discriminate against U.S. IT & engineering staffing and solutions companies.