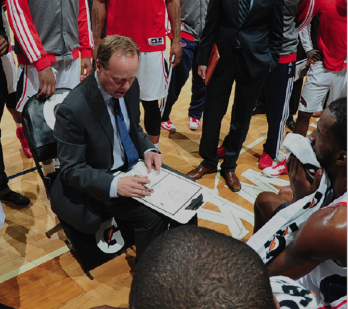 It's a dream come true for recruiters and hiring managers who want to kill time at work without getting grief from their boss. I recently discovered that ESPN.com is chock full of hiring lessons, so keep clicking away instead of getting back to that boring spreadsheet the next time a co-worker questions your productivity.
Speaking of wasting time, let's not do that and get right to the sports-mirrors-life learnings:
Lesson One: You Can't Change A New Hire's Character
Article: Why No. 1 pick Jameis Winston is monumental risk for Buccaneers
This article doesn't predict whether Winston's past — which involves suspensions, theft, and allegations of rape — will ultimately affect his ability to develop into a top NFL quarterback. None of us have clear vision into the future.
But the article dives deep into the San Diego Chargers' decision in 1998 to use its No. 1 draft choice to select Ryan Leaf, whose on-field talent was as apparent as his off-field problems. Leaf played three miserable seasons for the Chargers before giving up on football. He later served prison time for burglary and drug possession.
In the article, former Chargers executive Bobby Beathard said, "Sometimes you see a guy with so much ability that you think, 'We can't pass this guy up. We can change his character.' But boy, changing someone's character is a really hard thing to do."
Lesson Two: Change Your Recruiting Patterns To Find Unique Talent
Article: Ali Marpet rides unexpected surge from Division III to legitimate prospect
Let's look at some of the schools represented in the second round of recently concluded NFL draft, and you tell me which team you've never seen on TV before: Nebraska, UCLA, Penn State, Alabama, Oregon, Florida State, Hobart, Ohio State, and LSU.
I bet you weren't even sure how to pronounce "Hobart," a tiny, liberal arts college in upstate New York (it's HOE-bart, by the way), but that's where lineman Ali Marpet played ball prior to the Buccaneers choosing him in the draft's second round.
Marpet wasn't a sensational athlete in high school and says he chose Hobart because of its economics program and Wall Street connections. He worked hard and bulked up, and now he's set to become a millionaire athlete.
Marpet's story reminded me of Sarah, one of my co-workers who had zero professional experience when we hired her in 2008. She had been working hard as a restaurant server and bartender while earning her MBA at a nearby Penn State branch campus. Sarah was recommended to us by a co-worker who was an MBA classmate of hers. This co-worker knew Sarah didn't have a glossy resume but noticed that she possessed the valuable character traits of ambition, work ethic, perseverance, and responsibility. Sarah has developed into the publisher and chief editor of one of our magazines, leading our organization into fertile markets and winning over some big-name customers.
Lesson Three: Hire and Train Someone Who Can Kick Your Butt (Figuratively Speaking)
Article: The gospel of Coach Bud
In just his second year as the Atlanta Hawks head coach, Mike Budenholzer was named 2015 NBA Coach Of The Year. You'd think in the ultracompetitive world of pro sports that San Antonio Spurs head coach Gregg Popovich, the 2014 NBA Coach Of The Year, would be ticked off he lost that award, especially to a fairly new head coach.
But Popovich actually volunteered to deliver the good news to Budenholzer via a late-April phone call. Budenholzer was hired by the Spurs in 1994 as video coordinator before Popovich asked him to be an assistant in 1996. Working together, they won four NBA championships.
The article quotes Budenholzer as saying, "The thing Pop (Popovich's nickname) did for me and did for a lot of coaches is — he let me coach. It seems really simple, and that's the beauty of being with Pop and being around Pop."
This article reminded me of one of my company's best hires ever. Nyki was brought on as a production manager, replaced me as managing editor, and then replaced me again as operations manager. I was happy for it. The more your new hires can accomplish, the better chance for your organization to operate at a championship level.
Lesson #4: There's No Room In Staffing For Sentimentality
Article: Chiarelli hiring signals culture change for Oilers
Kevin Lowe was part of six NHL championships as a player for the Edmonton Oilers. Craig MacTavish delighted Edmonton fans with three titles as a player. Last month, after nine consecutive years of missing the NHL playoffs, Lowe and MacTavish were removed from their front office positions. Named the Oilers' general manager and president of hockey operations was Peter Chiarelli, who was GM of the Boston Bruins when they won the Stanley Cup in 2011 and had no connections to the Oilers prior to his hiring.
ESPN columnist Scott Burnside — who usually writes about forechecking and icing — accurately articulated the impact of the management change. He wrote, "The announcement stands as the demarcation line between an ugly past and a promising future. It is that simple. Winning never happens to a team until the culture of losing has been eradicated. And in Edmonton, the old boys' network that had defined the team's management/coaching structure for most of the past decade had made eradicating that culture impossible."
I've been preparing for an upcoming conference presentation on sales hiring best practices, and one of the steps I recommend is firing all the salespeople who have proven they can't do the job — even if they're your longtime friend. You need to establish the right culture if you expect your organization to blossom.