Small businesses, especially mom and pops, again were the employment  powerhouse, in May accounting for more than half the 201,000 new private sector jobs created in the month.
ADP and its partner, Moody's Analytics, said businesses with fewer than 50 workers created 122,000 new jobs in May, while the biggest employers barely budged the needle, adding 13,000 workers. In fact, the monthly National Employment Report said employers  with 500-999 workers cut 3,000 jobs during the month. Manufacturers of all sizes lost 5,000 jobs.
Considered an indicator of what the official government jobs report will show when it's released on Friday, ADP's May numbers were about what economists were expecting. The Dow Jones Newswires survey found the average forecast was for the report to show 215,000 new private sector jobs. Bloomberg and Reuters both forecast 200,000 jobs.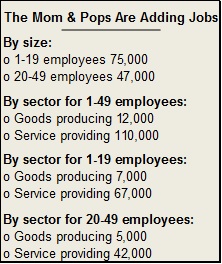 Economists expect the U.S. Department of Labor employment report will show businesses added somewhere between about 210,000 to 227,000 during the month. That would be consistent with the department's initial April report which put the new job count at 223,000 for the month.
Mark Zandi, Moody's chief economist, said of the May report, "Employment growth remains near the average of the past couple of years. At the current pace of job growth the economy will be back to full employment by this time next year. The only blemishes are the decline in mining jobs due to the collapse in oil prices and the decline in manufacturing due to the strong dollar."
Goods producers added a mere 9,000 jobs; the balance were created by the service sector:
Trade/transportation/utilities +56,000
Professional/business services +28,000
Construction +27,000
Financial activities +12,000