Two-thirds of all companies have sourced new hires in the last year from social media. And, no surprise here, LinkedIn is the most popular site for making hires.
A survey out this morning from the Society for Human Resource Management shows the importance of these sites to recruiters and the HR professionals who responded to questions about their use of social media, and their recruitment outsourcing practices.
SHRM found 65 percent of the responding companies had hired new workers from social media sites. By far, LinkedIn was the most heavily used, with 57 percent of the respondents sourcing at least one hire from the site in the last year. Facebook, the largest social media platform in the world, came in a distant third behind professional or association networking sites.
There's little doubt that TA professionals scour LinkedIn. At the end of the second quarter, LinkedIn said it had 37,000 total Talent Solutions accounts, a number that grows each quarter.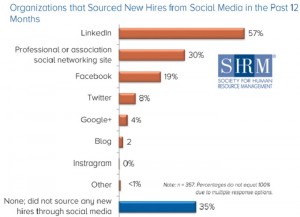 What we don't know is how many total hires were made from LinkedIn, or any of the other social media sites the survey respondents used. Or what percentage they represented of a company's total hiring. Those questions weren't asked.
Other surveys, notably CareerXroads annual source of hire survey, have found hires directly sourced from social media sites to represent a small share, on average, of a company's total external hiring. Furthermore, in the last report issued by the recruiting consultancy, LinkedIn was categorized as a job board, and the social media category was entirely eliminated.
"We purposely avoided Social and Mobile as sources since they are foundational and 'influence' every category," wrote the report's authors, Gerry Crispin and Mark Mehler.
As if, however, to underscore the importance of LinkedIn, 87 percent of the HR professionals in the SHRM survey deemed it "somewhat" or "very important" for job seekers to have a presence on the site. Almost as many said the same about having profiles on professional or association sites. And those percentages vary widely by job type. For those in communications, media, or public relations, 96 percent of the respondents felt the job seekers better have a LinkedIn profile. For hourly workers, only 11 percent thought it "very important."
Having a presence isn't enough, said 77 percent; the profile needs to be complete, including updated employment, education, and skills. It's also important, said 73 percent, for job seekers to keep their postings on social media professional.
SHRM's survey also found 64 percent of companies outsource some or all of their recruiting. By far, the No. 1 reason they go outside for recruiting help is speed and the need to fill a job quickly. Half of the respondents said that's why they outsourced. A second reason, cited by 36 percent, was to gain access to outside recruiting expertise and the vendor's talent pool.