Editor's note: Cody Voellinger is founder and principal of RockIt Recruiting in San Francisco. The IT specialty firm is developing a reputation for its innovative, engaging, and unconventional candidate marketing. In this post, Cody explains the rationale and the results.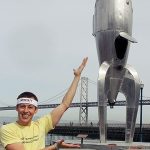 Recruiting in the hyper-competitive Silicon Valley start-up market requires that we are constantly looking for a competitive edge, whether it be new tools, messaging techniques, or throwing parties.  In this age of mass online communication, parties and events may seem unnecessary, which is exactly why we do it.
Here is a quick recap of some events we have organized, and you can see more here and here:
Taco trucks offering free lunch to engineers to celebrate our new office and our Careers Lunched initiative;
Monthly Tech Trivia serving up tech-themed pub trivia;
Sponsoring hack-a-thons, ping-pong tournaments, and start-up events for Bay Area college alumni groups;
Hosting local tech Meetup groups to do their presentations at our office;
Parties and Happy Hours.
Why do we organize and host these events?
RockIT is based in San Francisco and works with Silicon Valley start-ups and engineers, so we are able to keep a finger on the pulse of the tech scene. We visit the office of every client and meet as many candidates as possible. Being local is a competitive advantage, and our events highlight that.
As recruiters, we demand a high level of trust. We ask candidates to let us guide their career decisions, and clients to write big checks while we build their companies. In Japan, I quickly learned that trust is built over beers. Turns out this is an international truth.
After spending time with candidates, and footing the bill for lunches and beers, I find it much easier to ask for intros to clients, ask for referrals, approach with questions about technology, etc. We are building a true give and take relationship.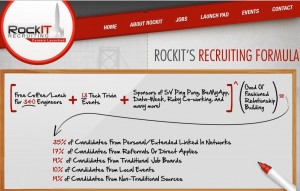 Events are a great way to expand your network and meet people who are friends of your current network, are passive job seekers you want to connect with, or  are active job seekers who found your event.
To have fun!  I'd rather get to know someone over a coffee or beer than over email any day. Not to mention that you get to know each other at a much deeper level.
What does RockIT get out of this?
We have a very karmic outlook on these events, so our expectations are simply to solidify relationships and earn trust that will be repaid with future favors such as those mentioned above.  Throwing parties and events is just one element of our long-term approach to building a relationship-based recruiting company.
That said, I collected data from two recent Happy Hours, which directly resulted in:
5 candidate submittals (mix of existing and new candidates);
3 new client leads;
6 new candidate relationships or introductions;
1 placement of a candidate who had multiple offers, but trusted and appreciated our market knowledge and career advice.
That's more than enough for me to justify throwing parties for work.