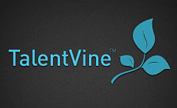 SelectMinds, TheLadders, an RPO, and more are making announcements at the ERE Expo in San Diego today. Just a sampling:
First SelectMinds, which "moved deeper into the employee referral world" a couple of years ago and then into the "talent communities" competition, today is launching what it calls the "first-of-its-kind software to allow corporate HR to automate all aspects of social recruiting."
It's an upgrade to the company's TalentVine product with six new modules: a jobs distributor to send out listings and links to company Facebook pages and Twitter accounts; a talent community module; a referral program module; a Facebook jobs page builder; a social-media-friendly career-site builder; and a module that optimizes job listings for mobile phones.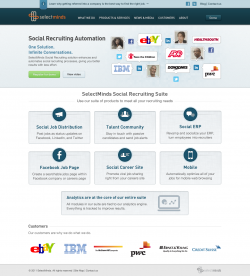 Some of this was available in one form or another in previous TalentVine versions (and some of it's certainly available from other companies), but this is more comprehensive than previous TalentVine versions, and is tracked and reported from one central dashboard.
IBM has been using some of the functionality in the new TalentVine, and is looking at using the social-media-job-distribution. Some of SelectMinds' other clients include eBay and HealthSouth.
Clients pay through either a bundled payment, or per module. Pricing ranges from a pay-per-job-volume range (like a range of 0 to 100 posts, for example) for the social-media-job-distribution, to a monthly fee for a bigger bundle of multiple services.
RPO Launch
A company called Evolv is launching an RPO for high-volume hiring. It says it will "deliver full recruitment outsourcing, from sourcing through skills testing and phone or in-person candidate screening."
Evolv, a firm that has traditionally been in the employee-selection business, believes that its data-driven, find-out-who'll-be-most-productive, find-out-who's-not-going-to-quit approach will be more effective than what it believes is a "fill empty seats" approach by some in the field.
TheLadders on the Move
TheLadders is launching an iPhone application called "Recruitable." It'll be used to compare new candidates who join TheLadders to recruiters' existing job posts. If there's a match, you get a notification. You can also view candidate profiles and contact them.
The app was devised during a December 2011 Hackathon.