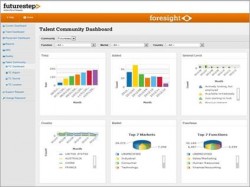 Futurestep has quietly been developing a tool called "Foresight" it will be rolling out to its clients, a dashboard meant to make heads and tails out of the recruiting information global companies have stored in their many databases.
Futurestep (a recruitment outsourcing company owned by Korn/Ferry) started thinking about this about a year ago, and has had an internal technology team working on it. It's "high-end, graphical, display analytics," Bill Sebra says.
Sebra is Futurestep's North America president. He says the company's global clients wanted more data — more real-time data. You may have "the people in China running something different from the folks in North America" when it comes to HR software, he says. "If you're the chief talent officer, it becomes very difficult." This challenge can be multiplied if you're a company with, say 8-10 different firms you bought, all around the world.
What Foresight does is aggregate information from multiple sources — perhaps an applicant tracking system, as well as Avature and Jobs2Web, gets it all in one place, and lets you splice and dice it. It's "read-only" — you don't add to it, as its job is to pull in information. You see data like how many candidates are in your total pipeline; whether they have been screened or otherwise what stage they're in; what your recruiters' req load looks like; and more.
Like I said, you can look at the data different ways; for example, you can look at what one recruiter's pipeline looks like, or what the funnel looks like in one country. Or, you can do a diversity look, or gender. You can check out your top sources of candidates. You can do a "hiring manager" view, similar to how you can do a "recruiter view," showing who's in the managers pipeline and at what stage.
Futurestep is offering this to existing clients as part of their normal service. In other words, you don't pay extra. But, it takes time to get everyone going, so people are getting set up one by one, with everyone done perhaps by the fall. New clients will get going on the system from their Day 1.
This is a perfect time to point out a trend I've been seeing for some time now: outsourcing companies and technology companies and recruitment ad agencies morphing and overlapping and getting into each other's businesses. Not long ago, I had a conversation with the head of recruiting at a big tire company. What she described that her outsourcing company was doing for her sounded a lot like what a recruitment advertising agency does. What Futurestep's doing, of course, is what a technology company does. Watch for more of this to come.