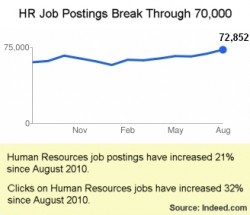 Two days before the President unveils his plan to put Americans back to work, new reports are out with mixed jobs news.
First up is a survey by Hay Group that says that while a majority of  retailers are expecting stronger sales this holiday season, hardly any expect to bring on more seasonal help than they did last year.
The management consultancy, which annually surveys 21 major U.S. retailers, found two-thirds expecting to hire the same number of workers as last year. Another 25 percent plan to reduce the number of hires.
Competition for those seasonal jobs is likely to be even keener than it was last year, the Hay Group predicts. Last year, retailers got about 41 percent more applicants than in 2009. This year, 21 percent report they are already seeing between 5 and 25 percent more applicants.
Considering that last week's jobs report from the U.S. Department of Labor said the economy added no new jobs in August, it's a fair bet that as seasonal hiring gets into full swing later this month and next, more retailers may see a surge in applicants.
Meanwhile, The Conference Board, which released its Economic Trends Index this morning, said the slight decline in August to 100.8 from July's 101 suggests the economy will add jobs in the coming months, but only by enough to keep unemployment from rising.
"The decline in the index is still not as strong as it was in the months leading to previous recessions," said Gad Levanon, associate director of Macroeconomic Research at The Conference Board. "We still expect the economy to moderately add jobs in the next several months, but not fast enough to lower the unemployment rate."
The Trends Index is a mashup of eight other labor market measures. It's designed to smooth out the month-to-month volatility inherent in any single economic measure.
Over at Indeed the news is more upbeat. The jobs search engine said all but one of the 13 industries it tracks had more job listings in August than in July. And all of them show double-digit growth on year-over-year basis.
Job postings for HR professionals climbed to their highest level since Indeed began tracking the category some 18 months ago. According to Indeed, there were close to 73,000 HR-related jobs listed on the site.
Competition for these jobs is also rising. Indeed tallies the number of clicks each receives (it doesn't know whether they turned into an applicant), and by job title, most visitors were interested in jobs for HR generalists, assistants, and managers. Recruiter positions ran a distant fourth with just over 91,000 clicks during the month.