If you're not yet familiar with Reddit, shake hands and say hello. Similar to the once-mighty Digg, it was founded in 2005 and is an online destination where users share content, comment, and vote up or down. As its website says, "Reddit bridges communities and individuals with ideas, the latest digital trends, and breaking news (…okay, and maybe cats). Our mission is to help people discover places where they can be their true selves, and empower our community to flourish."
It's one of the Internet's quiet success stories, which was underscored this week when the company closed on a $200 million round of funding, putting the company's value at $1.8 billion. It enjoys a loyal user-base in the universe of 300 million monthly visitors. Dollars and eyeballs aside, some other reasons to take a look at advertising on Reddit are as follows: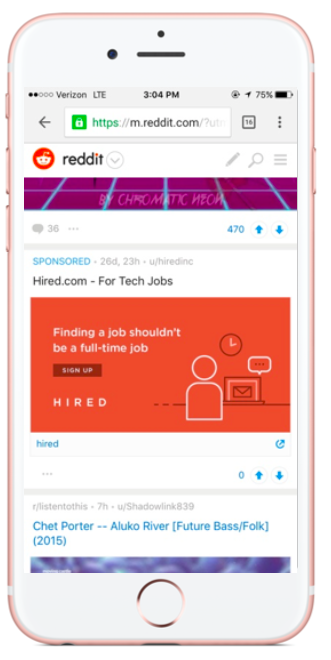 Eighty percent of traffic comes in through a desktop computer. Unlike Facebook, Twitter, and even Google, Reddit's users are stubbornly old school. This is good for employers, since applying to a job online is stubbornly old school too, complimenting a keyboard and 15-inch monitor much more than tapping on a four-inch screen. Reddit users are more likely to be fill-out-a-form ready.
Simple. Using Google's AdWords feels like it requires a PhD in computer science to understand all its intricacies. Facebook is much simpler, but still challenging for most novices and getting more challenging as it matures. Reddit, in contrast is refreshingly simple. You also don't have to worry about what a click should cost, because you only pay for impressions of your ad.
Low risk. Most online marketing options are low risk, because the budget you set is so low, and Reddit is no different. You can start advertising for just $5  per day.
Text only or image based. If you're not savvy enough to upload an image for an ad campaign, it's not a problem. Reddit lets you post text exclusively. This is similar to Google, without the required PhD.
Solid support. The company provides a robust section of content if you have questions, or want to see examples, but you probably won't need it. HR tech solution Hired.com is even featured if you need an industry case study.
"We first approached reddit as an experimental channel, and were quickly blown away by the capabilities of the platform," said Lennie Silwinski, director of user acquisition at Hired as part of the case study on Reddit. "They provided us with a variety of mechanisms to reach tightly segmented audiences and we found their user base to be highly engaged and highly qualified. As a result, over the past two years reddit has grown into an important part of our performance marketing mix."
Demographically, Redditors spend an average of 14 minutes per site session. Fifty-four percent of their audience is in the U.S. and 87 percent of its users are under 35. There are some 45,000 online communities and they stake claim to being "the fifth largest site in the United States," so your guaranteed to find your audience as an advertiser.
There are a lot of places to spend recruitment advertising dollars online. It's easy to default to Google and Facebook, and there's nothing wrong with that, but if you're looking for another site to throw into the mix, you could do a lot worse than Reddit. The fact that 80 percent of its users are on a desktop computer and more likely to fill out a lengthy job application are reason enough to test the platform.