Three leaders in the U.S. recruitment industry are at the White House today, participating with about 50 CEOs and business and technology leaders in the Forum on Modernizing Government.
Convened by President Obama, the forum is focused on the gap in technology between the private and public sectors.
Craig Newmark, founder and owner of Craigslist, Manpower CEO Jeff Joerres, and Monster chairman and CEO Sal Iannuzzi are sharing their suggestions for improving government efficiency, improving customer service, and maximizing the return from the government's investment in technology.
In advance of the forum, Iannuzzi joined with three other CEOs of leading technology companies in publicly praising Obama for "consistent efforts to ensure that innovation becomes integral to how our country operates."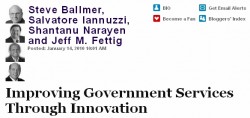 Iannuzzi, Steve Ballmer, CEO of Microsoft, Jeff M. Fettig, chairman and CEO of Whirlpool, and Shantanu Narayen, president and CEO of Adobe Systems, in a commentary posted on Huffington Post, say, "It's time to modernize government — streamline what works, and eliminate what doesn't."
The men echoed President Obama's own lament that government has fallen woefully behind the private sector in using technology to streamline operations and speed the delivery of public service. In a White House statement, President Obama says, "I want us to ask ourselves every day, how are we using technology to make a real difference in people's lives."
In their commentary, the four CEOs say, "As the pace of innovation accelerates, so will the distance between the technological promise of the private sector and the practice of the public sector. Along the way, we risk losing billions of taxpayer dollars, opportunities to serve those at risk and in need, and transparent insight into the operations of our democracy."
"Indeed, the time is ripe for a real public-private partnership initiative aimed at driving innovation and sustainable job growth."