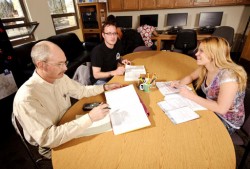 Recent statistics say as many as two thirds of current college students are considered nontraditional students. Yet, most career development and rotational programs are tailored for the traditional student, and even screen out nontraditionals.
Who They Are
The National Center for Education Statistics loosely defines "non-traditional" students as meeting one or more of the following criteria:
Delays enrollment; does not enter postsecondary education in the same calendar year that he or she finished high school.
Attends part time for at least part of the year.
Works 35 hours or more per week while enrolled.
Is considered financially independent for purposes of determining eligibility for financial aid.
Have dependents other than a spouse (usually children).
Is a single parent.
Completed secondary education with a GED or other high school completion certificate or did not finish high school.
Statistics from that same agency claim that 73% of all college students meet one or more of these criteria, which means most campus recruitment efforts only target the remaining 27%.
Nontraditionals offer employers many benefits:
Professional experience outside of the classroom. They may have worked, or are currently working, and understand expectations and responsibilities of employment.
Life experience. Veterans have traveled and had leadership experiences in high-pressure situations. Parents have "people management" experience.
Goal orientation demonstrated by pursuing a degree despite obstacles.
Where They Are
Demands on their time means nontraditionals spend less time on campus, and their classes are often after "normal" business hours. While more than 80% of students attending two-year colleges are defined as non-traditional, many attend online classes at traditional schools (like Harvard or Northeastern), or any of the various virtual-only institutions (like Regis University in Boulder, Colorado).
While membership may not be as active, a few organized student groups can be located:
Many colleges have a commuter student office, commuter council, or other liason to non-traditional students, and a good place to communicate to them is through their on site or electronic bulletin board. Most students use email and electronic means of communication, and may get emailed updates directly.
Student Veterans of America is a non-profit national organization with more than 500 chapters in the US, Paris and Rome.
Each university's intra-fraternity council has information on sororities/fraternities that count commuter students as their target membership.
Reach out to student councils, clubs, or boards. Student government can be a resource to find the leadership of these organizations, and perhaps a few of your target audience themselves.
Students in Free Enterprise is a group that attracts students with entrepreneurial interests. School teams design, develop, and complete a community service project each year, and compete regionally and nationally to win scholarships and funding.
What They Want
Nontraditional students face a few challenges to completing a degree: financial hardship caused by student loans, working while attending classes, or familial support obligations, dependent care concerns, and competing work and academic commitments. Identify ways that you can meet these students' unique needs and set yourself apart as an employer:
One third of college students are over 25 years old, and many have families and children. Benefits like flex time, child and dependent care resources, or a generous or flexible PTO policy pique this population's interest.
Understand that this population may have limitations on relocation. While this eliminates many rotational career development programs from their short list, this location commitment can be used to your benefit. Consider partnering with local post-secondary schools, asking them to create a talent pipeline for your specific location.
Create connectedness: identify or organize an employee resource group for veterans, single parents, older students, or part-time employees.
Presenting Them to Managers
You might be surprised at the number of hiring officers who say they want college graduates, but stumble when pushed to define reasons.
If you have a college hire career program, view it with fresh eyes. Open the conversation with your hiring managers and sponsors and ask questions.
Where do our requirements come from?
Can we develop a program with criteria inclusive of nontraditional students?
How do we remove obstacles to attracting those students?
Be careful of simply re-wording your existing program to sound attractive to a nontraditional. This is a futile effort, and a sure way to lose credibility with both your client and your applicant. Other things to consider:
Consider offering part-time employment as opposed to internships. A nontraditional student may be willing to work a shorter paid week while in school. (Partner that with a part-time tuition reimbursement policy and benefits package.)
Speaking of tuition reimbursement, many nontraditionals are already employed in your organization, maximizing their tuition reimbursement plan. Develop a plan to identify, recognize, and reward these students, and offer them a career path. This is a low investment way to both win over leadership reluctant to consider different campus strategies and improve employee retention.
Create an immediate low cost/high return strategy by considering nontraditional students to complement your traditional recruitment methods. Considering the relatively high number of nontraditional students, developing a plan to reach the "73 percent" makes good business sense.