This month marks the one-year anniversary of ChatGPT launching itself and thousands of other startups and established players into the realm of mainstream generative AI awareness. It's been a ride since then, but adoption of AI tools has lagged — maybe more than people who are on the front end of tech adoption may realize. Consider some of the most foundational use cases for AI: automating administrative recruiting tasks.
Research from Harvard Business Review in partnership with Paradox found that nearly 40% of organizations haven't adopted any automation in their talent acquisition processes. The reasons for the lack of uptake are varied, but the conclusion seems to be a combination of change management, prioritization, and confusion about possible solutions.
Of course, there are plenty of companies that are taking steps to implement automation in their recruiting organization, but new research shows a split emerging.
A Haves and Have-Nots Split
A Harris Poll on behalf of Indeed recently researched viewpoints about automation from the perspective of both employers and candidates who had either found a job within the last few months or are considering a new job in the next six months.
As in previous research, there is a high affinity for automation in general, with 87% of respondents viewing it as positive and 90% of employers believing it could help them increase productivity, reduce costs, and improve the candidate experience.
When it comes to differences though, whether you use automation probably has a significant impact on how it could be most impactful. For employers currently using automation, they see the most important opportunities are for legal and compliance checks (24%), cross-team collaboration (24%), decision-making (23%), ensuring diversity (23%), and communication with candidates (23%).
For employers not currently using automation, they see possible impact on background checks and references (44%), resume screening (41%), interview scheduling (37%), and candidate sourcing (36%).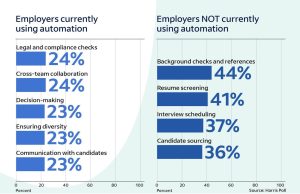 In its evaluation of the split between these two groups, Indeed offered up this explanation:
"This might suggest that what employers need and what automation tools provide may not always fully align. As a result, employers should carefully choose hiring platforms that bridge the gap and emphasize innovation with a focus on making hiring simpler, faster and more human."
I don't agree with this analysis, though. Instead, what I believe we are seeing here is early adopters pushing the envelope on what automation can (and can't) help with in the hiring process.
Automation 2.0? Proceed With Caution!
Those who haven't automated anything in the hiring process are likely to look at foundational use cases for it. These are the most accepted and easy-to-justify automation tasks.
Take interview scheduling, which is a time-consuming activity when done on its own manually but a much shorter process if automation can offer up possible times automatically. Same thing with basic resume screening, which with a few questions can ensure that candidates have the most basic qualifications for the job.
In many cases, automation makes these tasks better for everyone. It improves the candidate experience by making the process go faster overall, and it's better for recruiters and hiring managers who are being asked to do more with less. Ultimately, what we ask automation to do at the foundational level is very black-and-white and isn't typically a consequential decision.
Compare that to what companies that are already using automation want and you see a significant difference. Asking for automation to help with decision-making or ensuring diversity in hiring definitely throws some red flags up for me. Unlike automated interview scheduling, vetting these types of solutions seems onerous, especially in jurisdictions where the types of decisions you might rely on automation to help with must meet certain standards.
How can software help to ensure diversity or drive cross-team collaboration? How can it help make better hiring decisions? How is that validated?
Determining whether someone is available 40 hours a week is a lot different than figuring out if someone has the skills and fit necessary to be the best possible hire. We expect innovation to push boundaries, but there are challenges with moving from a simple automation exercise to one that could affect people's livelihoods in ways that aren't black and white.
That's ultimately why there's an overall drop in appetite for more ambitious automation 2.0 once an organization has bought into those basic, foundational use cases. There's a lot more risk. And who can know if it's worth the potential reward without a lot more investigation.