Analytics in recruitment has historically been a fickle mistress. Everyone knows it's important, but placing code on specific web pages and tracking exactly where people are coming from and making sense of all that data is tough for many marketers. So, you can imagine the herculean challenge site metrics can be for a recruiter or HR executive.
While many industry folks have access to some recruitment marketing analytics through vendor dashboards and applicant tracking platforms, it is often difficult to understand the performance of all of your job ads across multiple sources. It becomes additionally tough when job postings are being thrown around and duplicated all around the web, usually without an employer even knowing.
Recruitics, a solution best known for being a marketing platform that leverages real-time data and programmatic technology to optimize advertising campaigns, hopes to change all that. Launching this week, the company now offers, at no cost, Recruitics Analytics.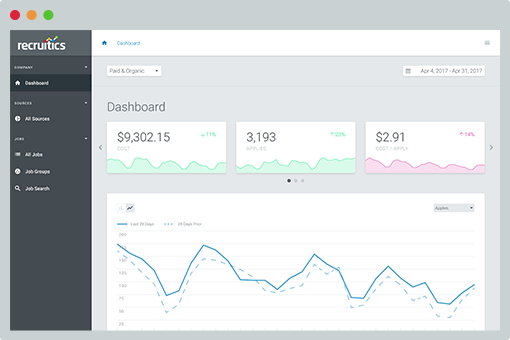 "After seeing the success of the pre-release program, we couldn't be more excited for the official launch and to open up Recruitics Analytics to anyone interested in better understanding the data behind their job ads," said Recruitics VP of Product Adam Stafford. "Understanding your current efforts is the first step to optimizing your strategy, and our goal is to make that easier for recruitment professionals with the launch of free Analytics."
The company hopes to become "the Google Analytics for recruitment," so it's no surprise the service resembles the product it's looking to emulate, even if it's currently a stripped-down version. After getting a demo last week, it's fair to think of the solution as "Google Analytics Lite."
To use Recruitics Analytics, customers place a piece of code in the footer of their website. If an applicant tracking system serves as your corporate career center, than the code most go in the footer of your ATS. From there, the product works with little-to-zero babysitting, providing the following data:
Real-time, job-level analytics
Centralized, one-click reporting
Data from all paid and unpaid sources
A single source for your data
"What we often see from clients, before they start working with us, is waste in their strategies created through no fault of their own," said Recruitics CEO Josh Gampel. "Unfortunately, this waste often goes unnoticed due to a lack of visibility into job-level performance. Recruitics Analytics provides easy access to that data, so all talent acquisition teams can get the analytics they need to make informed decisions that eliminate wasted spend, cut costs and drive their business forward."
Why give this away for free? Similar to Google, which also offers its analytics product at no cost, the product serves as a loss leader, funneling users into more profitable products down the road. Recruitics currently targets employers, staffing agencies, and job boards. Analytics, however, seems to be a direct attempt at getting more direct employers on board, as they tend to be a tougher sell for Recruitics' core product versus marketing-savvy vendors.
If you were on the fence as to whether or not recruiting is a marketing function, this might just pull you over to the marketing side of the argument. Marketers like to say, "You can't manage what you can't measure." Indeed.
Providing a free solution for employers to better gauge where money is best being spent and where the best returns-on-investment reside is an important step into marrying marketing and recruitment. Knowing that one job board is performing better than another, and discovering unknown sources of traffic, for instance, is an invaluable tool for any business.
Google Analytics for recruitment has a nice ring to it. I'm just surprised it took this long.