Our brand has taken an absolute battering over the last 18 months. –Jon Tait, of BP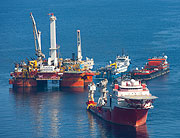 That's for sure. (You've seen the coffee video.) Tait's the head of global attraction at BP, talking about the aftermath of the colossal oil spill that killed 11 people and spilled millions of barrels of oil into the Gulf of Mexico. The company is launching its first "people-based" recruiting campaign; more on that in a minute.
Tait says that in the fall of 2010, BP researched what people thought of BP, and how that compared to what they thought of competitors. It used LinkedIn for the surveys; the company's user conference in Las Vegas today is where Tait talked about this effort.
BP found out that a lot of people — about 80% — didn't know BP was hiring. They didn't know other Big Oil companies were hiring either, but they knew tech companies were adding headcount. BP learned that 60% of people it wanted to hire are passive candidates, a target market it hadn't been targeting much.
The good news it got was that more than 50% of people still had an interest in working for BP, and rated the quality of its workforce high, and its technology at least on par with competitors'.
People's biggest concerns were the company's financial sturdiness; its safety record; and their own long-term career goals, and whether they fit in BP.
BP's brand — the perception it's going for — is about bringing brilliant minds together with technology at a massive scale to meet the world's energy needs.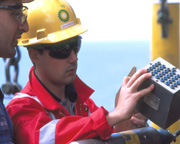 Its recruitment advertising has changed, consistent with that brand, but using employees to describe it in human terms. 
It used to say things about exploring Alaska and other messages that were really about the company in a more detached, less touchy-feely way. Its new ads feature employees talking about why they're inspired by their work; how they feel when they go home (exhausted, but ready to be renewed and refreshed with new opportunities when they awaken); how the company is socially responsible; and the idea that it's made up of tens of thousands of "amazing stories."
In a nutshell, it's now spreading this brand message through stories: stories, Tait says, not of BP but of Carter or Farah or others it has featured on its website and elsewhere.
As for social media: Tait jokes that the way companies are using social media is similar to the way teenagers feel about sex: "You think you should be doing it, but you don't know how," he says.
He says that the live CNN broadcast of the BP well being capped was a defining moment of BP's social-media usage. BP called up CNN to say that the coverage wasn't accurate, and that an important tweet is on the way. CNN read the tweet on the air, one that got BP's message out correcting CNN's report, and one that left CNN looking confused about the whole subject.
It has courted journalists, becoming much more proactive in talking to journalists about its drilling business. Tait feels that media coverage has generally improved.
Anyhow, the stories, Tait says, are just "one small step" in BP's branding. They generated applause when he showcased them at LinkedIn's expo.
"They say a crisis reveals your true character," Tait says. "I totally saw that with my colleagues at BP."