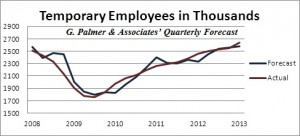 U.S. employers may be hesitant to hire permanent, full-timers, but they're bringing on temporary and contract labor faster than they have in months.
The Palmer Forecast says demand for temporary workers will grow at a rate 5.9% faster this quarter than in the same period last year. And that follows a first quarter growth rate that was 6% ahead of 2012.
"Our forecast for the 2013 second quarter follows recent trends showing growth and indicating another increase in demand for temporary workers," says Greg Palmer, founder and managing director of industry  consultant G. Palmer & Associates. It's the 14th consecutive quarter of year-over-year growth in hiring for temporary workers, he added.
The Palmer Forecast echoes a CareerBuilder survey of two weeks ago. Fewer hiring managers and recruiters than last year or even last quarter expecte to hire full-time, permanent staff. However, the percent expecting to reduce their temp hiring was off only slightly from the year before. In the second quarter of last year, 34% of the respondents said they expected to hire more temp workers. Now, 32% said that.
The American Staffing Association said its temp and contract labor index was up 2.4% last month over March of 2012 and up 1.7% over February. The Staffing Index stands at 91, its highest April point now since 2008.
Despite a jobs growth report for March that was far below what labor economists were expecting, hiring by staffing agencies was one of the report's few bright spots. Temp services grew by 20,300 new jobs; 3,100 fewer than in February, but well above the 14,500 average for all of last year.
"So far in 2013, the (Bureau of Labor Statistics) reported an average of 18,400 temp jobs per month. Most of the trends remain positive for continued single digit temp help growth for 2013," Palmer says in his forecast.
"One of the most revealing indicators to watch during this uneven recovery relative to Temp Help growth will likely be the Temp Help penetration rate. The Temp Help penetration rate is significant because it measures Temp Help as a percentage of total employment. The penetration rate has continued steady at 1.94% of the total labor market from a low of 1.34% in June 2009. The penetration rate peaked in May 2000 at 1.96% and hasn't been this high since April 2007," Palmer added.