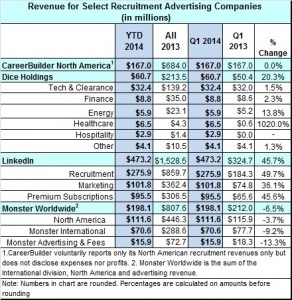 By any measure, the first quarter was a mixed bag for the employment advertising business. The three public companies — Monster, Dice, and LinkedIn — all reported numbers that in some way didn't hit what Wall Street investors were expecting or wanted.
CareerBuilder, privately held by a group of publishing companies lead by Gannett, its biggest shareholder, said it had North American revenue of $167 million, barely a 1% increase from Q1 last year. It provides no other numbers.
LinkedIn Keeps Growing
Last among the companies to report was LinkedIn, which this afternoon said it earned 38 cents a share (not including one-time expenses) versus the 34 cents analysts were expecting. Overall revenue grew by 46 percent to $473.2 million, with recruiting revenue powering the growth. The company took in $275.9 million in recruitment income, an almost 50 percent increase over the same quarter last year. Wall Street forecast  the company would bring in $466.57 million.
However, what should have been a complete blockbuster performance, was tempered by two items: net income, which was down from last year, and its financial outlook for the current quarter and the full year.
Including all expenses, including those analysts typically exclude when analyzing a company's performance, LinkedIn lost $13.4 million, compared to net income of $22.6 million for the first quarter of 2013. Even excluding those certain expenses, LinkedIn's income was $47.3 million versus last year's  $52.4 million.
The company also upped its revenue outlook for the year, forecasting it to come in between $2.06 billion and $2.08 billion. For this quarter, the company is looking at $500 million to $505 million. Compare that to the $800 million Monster is expected to gross for the entire year.
As big as those projected revenues are, the forecast is short of what analysts were predicting. Not by much, but enough to dampen investor enthusiasm for the earning and revenue beats. The stock traded lower after the report came out, dropping 4.5 percent to $154.79 in after hours selling.
Monster Struggles
LinkedIn may have been the biggest disappointment to investors, only because expectations for the fast-growing company are so high. Monster, though, reported the worst news. Revenue in every category — North America, International, and in advertising — was off from the same quarter in 2013. Its $198 million was close to $3 million under the analyst consensus and well below last year's $212 million. That translated to per share earnings of 8 cents, a penny less than what Wall Street wanted, though it was in line with what the company predicted in January.
Monster CO Sal Iannuzzi, who is also the company's chairman and president, put on his game face, saying during the conference call with analysts, "I'm pleased that we have once again delivered sequential revenue growth (from Q4 2013 to Q1 2014) in North America and in Europe." In each of these two categories, Monster eked out small gains, the first time both categories were up over the previous quarter since the end of 2010.
Iannuzzi cited the acquisitions of TalentBin and Gozaik as one part of a still secret strategy incorporating sourcing passive and active talent, advertising jobs, and "a technology solution platform to manage it all." Monster will unveil its strategy at an analyst conference day in two weeks.
Wall Street reacted negatively to the numbers, and to the company's forecast it would earn between 7 cents and 11 cents per share in this quarter versus analyst expectations of 12 cents. The stock price dropped sharply, at one point hitting $5.37 a share, down 22%. It closed at $5.65, down 18%.
Dice Beats, Misses, and Ups
Best known for its flagship tech careers site, Dice.com, but now expanded into energy, healthcare, and hospitality, as well as financial careers, Dice Holdings, Inc. reported earning 8 cents a share on revenue of $60.7 million. The earnings were a penny less than the analyst consensus, but the revenue beat the $60.37 million estimates.
Most of the increase, as CFO John Roberts said during the Dice conference call, was the result of acquisitions.  Dice upped its financial outlook slightly saying it expected revenue between $248 million and $255 million for the year, and between $62 million and $63 million for the current quarter. The increase, Roberts attributed to the purchase of OilCareers.com in March.
President and CEO Mike Durney said it will take "some time" to increase the company's organic growth (versus growth by acquisition), adding, "We are satisfied with the first signs of progress."
Much of his presentation was spent talking up the company's technology and social media developments, especially its powerful sourcing tool, Open Web. Now available as a separate buy, he said it has added $1 million to sales since December and has 300 customers. He shared a case study from specialty retailer Pier 1, who, Durney said, found an engineer in two hours with Open Web after spending five months of fruitless searching elsewhere.
Curiously, during the Q&A portion of the call, Durney hesitated about committing to a broadening of Open Web to areas other than tech. "It's not specific to any one vertical," Durney agreed, but other than expanding it to some of the other job board niches, "We firmly believe though the best application for it is combining our proprietary databases and the data you get out of those together with what you find from the Open Web sources."
Open Web aggregates tech candidate information from dozens of sources, including all the major social media sites (to which access is permitted), and presents it in a formatted, readable and easily referenced manner. Other services do similar types of searches, including Monster's TalentBin. (More details here.)
CareerBuilder: Good Results
In discussing Gannett Company's Q1 results, President and CEO Gracia Martore credited CareerBuilder with "good results," which helped to increase the company's digital revenue by 3%. CareerBuilder overall grew its revenue by 4%. How much that amounted to wasn't disclosed.
In other comments, Martore noted the acquisition of job distribution service Broadbean.
"This acquisition when combined with the addition of EMSI in 2012 represents the next step in CareerBuilder's transformation," she said, "positioning it as the unparalleled leader in the rapidly growing software as a service market for talent management solutions."