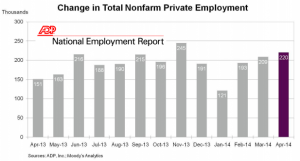 This morning's private sector employment report from ADP is buoying hopes the jobs market is picking up after after a slow winter. The payroll processor and HR services firm said the U.S. economy created 220,000 new private sector jobs in April, about 10,000 more than analysts were expecting.
The monthly ADP National Employment Report also upped the number of jobs initially reported for March by 18,000.
"The job market is gaining strength," said Mark Zandi, chief economist at Moody's Analytics Inc., which  compiles the numbers for ADP. "The recent pickup in job growth at mid-sized companies may signal better business confidence."
April's job increase was the largest since November, when ADP said 245,000 private sector jobs were added. The U.S. Department of Labor's report for that month said the economy added a total of 274,000 non-farm jobs. (The Labor Department report, which is typically released on the Friday following the ADP report, includes government jobs. ADP's does not. There are also significant differences in how the data is collected.)
When the government releases its preliminary jobs and employment report this Friday analysts are expecting it will show payrolls grew by 215,000, according to The Wall Street Journal. Unemployment is likely to show a drop back to 6.6 percent, where it was in January.
As robust as the ADP report was, its impact was blunted by first quarter GDP growth. The Commerce Department said the economy grew at an anemic 0.1 percent, the weakest showing 2012. Economists were expecting a slowdown to about 1.2 percent  as a consequence of the bitter winter weather, but the far lower number took them by surprise.
"There's no hiding the fact the GDP number is a disappointment, but even though it came much lower than expectations it's getting a hall pass because we are expecting to have a better second quarter," Art Hogan, chief market strategist at Wunderlich Securities told The New York Times.
Besides the strong total job growth, the ADP said the payroll increases were widespread across industry sectors and company size. The weakest growth came in manufacturing, which eked out an increase of 1,000 jobs. In other sectors:
Construction added 19,000;
Professional/business services grew by 77,000;
Trade/transportation/utilities 34,000;
Financial activities 8,000 .
ADP says companies large and small added workers in April, with companies with up to 49 workers adding 82,000 workers and those between 50 and 499 adding 81,000. The biggest employers, those with more than 1,000 workers, increased headcount by 30,000.