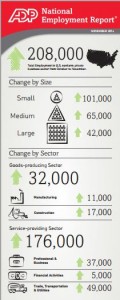 Private sector employers added 208,000 jobs in November, the seventh time this year job growth has topped 200,000.
The report from HR services and payroll process ADP, says every one of the broad industry groups it tracks added jobs, with small businesses growing the fastest. Businesses with fewer than 50 employees created 101,000 new jobs. Employers with more than 500 workers contributed 42,000 new jobs.
"November continued to show solid job growth above 200,000," said Carlos Rodriguez, ADP president and CEO. "Small businesses continued to drive job gains adding almost half the total for the month."
Economists, however, were forecasting even stronger growth. Surveys put their expectations at an average of about 220,000 for the month. Bloomberg's survey of 47 economists had predictions ranging from as little as 190,000 to as much as 262,000, with the average at 222,000.
The ADP report, prepared in partnership with Moody's Analytics, is closely watched by analysts as an indicator of what the Department of Labor's monthly employment numbers will show. That report is to be released Friday morning. Bloomberg's survey is predicting it will show the U.S., including government,  added 230,000 jobs in November.
Most economists expect the 5.8% unemployment rate was unchanged in November. Moody's chief economist, Mark Zandi, believes it could come down half a point, if job growth stays above the 200,000 mark in the future. At that rate, Zandi said, "The tightening in the job market will soon prompt acceleration in wage growth."
Even as job growth has accelerated in the last two or three years, wages have barely budged. Nationally, wages are growing an average of 2% annually. Selectively, however, such high demand occupations as software developers, some healthcare jobs, and several accounting specialties have seen wages growing at multiples of the average.
A Dice Holdings survey of hiring managers released this morning says pay will go up for new hires next year, as they struggle to fill jobs and avoid having offers rejected.
The survey highlights show:
49% of recruiters expect higher starting salaries.
29% of hiring managers say they've had candidates reject offers, and increase from the 26% in June.
52% have had candidates ask for more money than they did just six months ago.
62% of hiring managers expect to add staff next year, an increase of four points over Dice's June survey.
How difficult to fill are jobs becoming? Dice's DFH measure of time to fill calculated that in September the average was 24.8 working days.
The non-profit business data and analysis Conference Board reported today that online job postings in November rose 170,000. The 5.25 million different jobs online during the month was the highest number ever reported by the group's Help Wanted OnLine series, which goes back to May 2005.