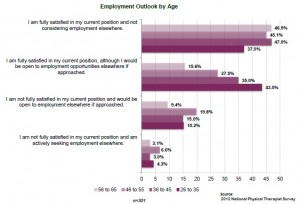 Physical therapists are the new nurses of healthcare recruiting, so much in demand that help wanted ads for them are now among the most commonly advertised healthcare jobs online.
In fact, Wanted Analytics reports there are now more jobs advertised for physical therapists than any other job in any occupation, exceeding even those for nurses. And that's after accounting for a 26 percent year-over-year decrease in the number.
Now a survey done by CKR Interactive's Peer Group US, and healthcare marketing specialist Katon Direct, helps explain why it's so difficult to fill physical therapist openings. Besides simply the growing demand for those services, professionals in the field simply don't want to change jobs.
"Only 4.1 percent of survey respondents say they are currently looking for a new job," according to the 2012 National Physical Therapist Survey. They also reported themselves as being dissatisfied in their current job.
By contrast, a Globoforce survey last fall said 39% of all workers were looking.
What that tells us is that healthcare recruiters have to reach out to source physical therapists. Running ads and waiting for candidates to apply isn't going to get you the 30.7% of the working professionals who report being satisfied with their job, but open to a change.
However, they need to be approached with a strong case, based on professional considerations more than anything. What the report found was that physical therapists value:
An employer's reputation and brand more than anything;
Medical excellence;
Location;
The type of employer – health systems and hospital outpatient facilities top the list of their preferences;
Referrals from colleagues and friends,
And while they use social media, most would rather not meet a recruiter that way.
Out of 20 attributes respondents were asked to score (on a 1-5 scale), having a reputation as a great place to work scored 4.62, the highest. Close behind was the employer's reputation for medical excellence with a 4.55. Money was fifth.
Location ranked third, not surprising since three-quarters said they would not relocate to take a another job.
When they do decide to make a change, physical therapists turn to their friends and colleagues. Career sites and professional publications are important, but less so. And when it comes to using social media to recruit them, physical therapists are "ambivalent," says the report. Just over half say they don't think it's appropriate for an employer to connect with them on any social media platform. Of those who are OK with being contacted, LinkedIn is by far the preferred method
As demand grows for physical therapists — and the BLS says it will grow by 39 percent in the 10 years to 2020 — hiring will become more difficult. With pay important, but less so than other factors — the average salary is almost $80,000— employers will have to take a hard look at their work environment, and especially at their brand and reputation, says the report.
You may not be able to influence those who want only to work for a certain type of employer (health systems and hospital outpatient facilities rated highest on the desirability list), but, says the report, "brand can make or break your ability to attract physical therapists to your organization."