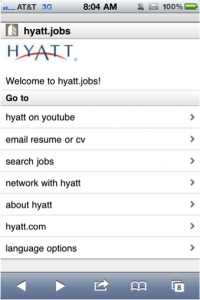 I was recently sitting on a commuter train in the Chicago area enjoying what turned out to be a record blizzard for the area. Looking around I could see that a majority of people were just staring at their smartphones, most likely searching the web, checking Facebook, or tweeting about the blizzard. You see this same behavior when waiting in line for your coffee or when sitting in the waiting room at the dentist office. Google recently reported that mobile searches grew 130 percent compared to last year, and ERE frequently posts articles about mobile recruiting.
In August 2008 Dr. John Sullivan posted an article about recruiting trends for 2009 about the importance of mobile-accessible corporate careers sites. We all know how important mobile accessibility is, yet only a few companies are truly optimizing the application experience for mobile. Here are a few suggestions to get you started:
Search for your company name and careers on your mobile device; for example, "hyatt careers." Your own career site should be right on top of the list. Click this link. What do you see? Most of you will see a very small version of your full career web site. A few of you will see your company's mobile site appear but without any career links or career information. Not a single Fortune top 10 company to work for has their site mobile optimized. I'm guessing a lot of people read about the Fortune list on their mobile devices. I wonder how many potential candidates were missed when they could not easily access career information for these companies.
Open up your company's main web site on a mobile device. Many companies do have a mobile version of their main web site. Where is the career link? We all fought hard to add career links to our company's main sites years ago; get your careers link added here as well.
For those of you who have optimized your job postings for search engines: Search for one of your jobs on your mobile device and then click on the link. Do you see a very small version of your ATS career portal or a mobile optimized version of the job that can be read and shared with others?
Creating an optimized version of your web site should be simple and relatively inexpensive. Keep the content simple and focus on the most important content. At Hyatt our site allows a potential candidate to search for jobs, view mobile video from YouTube, discover ways to connect with us through social media, and learn about our culture. Most ATS systems do not yet offer mobilized versions of their career sites, but many job SEO vendors can easily do this for you.
Just like your main career site, obtaining analytics is simple. At Hyatt we have thousands of people visit our mobile career site every month and over six thousand monthly visits to our mobile job search page. AT&T and Sodexo offer a great mobile experience as well.
In the U.S. over 300 million people have a mobile phone. We take our mobile devices with us everywhere. Don't leave your mobile viewers stranded, start mobilizing your career content.