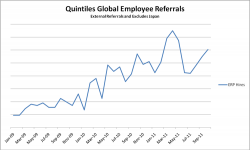 We have traditionally operated a global employee referral system that captures employee's quality referrals. Should they become hired, it automatically puts their name into the queue for a guaranteed cash reward. Similar to many corporations, different rewards giveaways have been offered over time as incentives: cars, boats, and home renovations.
In 2011 at Quintiles, however, an adventurous theme was implemented (one I hinted at a year ago).
In addition to the cash rewards, successful referrers would also be entered into a grand prize drawing for an exclusive trip of their choice with National Geographic Expeditions.
This adventurous approach heightened engagement. Employee referrals began to constantly rise. Three winners, in each of three regions, were randomly picked by Chairman Dr. Dennis Gillings at the close of the fourth quarter. The theme was well received and emphasizes our culture valuing adventure and experience, as well as encouraging world knowledge and culture sharing.
The employee referral program for 2012 holds more ambitious incentives. A mid-year winner will get to attend the 2012 Summer Olympics in London! This reinforces the concepts of value of competition, being the best, pushing the limits, global cultures all coming together for positive reasons, and valuing experiences and memories. We are looking for the world's best talent — just like the Olympics attracts.