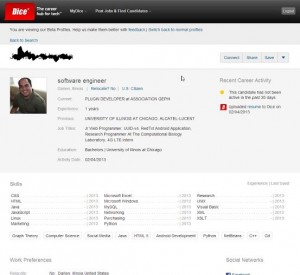 If you source or place tech talent you need to take a close look at Dice's Open Web.
It's a service that delivers a remarkably detailed dossier on candidates meeting your job specs, whether or not they've ever been on Dice.com. Scouring more than 50 sites where IT talent hangs out, Open Web assembles lists of their skills, talents, background, and, remarkably, compilations of their most recent contributions from each of the sites. If they have a resume on Dice, you get that, too.
At a glance, you can tell who among your prospects contributes to site like SourceForge, GitHub, Quora and others. Open Web pulls their contributions and lists them so you can see what the candidates have been posting. From sites like Facebook, Twitter and others, you get even more details, all of which is presented in a quick, scanable foemat that makes it easy to see who to contact, and gives you loads of information that can help you get a conversation going.
As recruiter Tim Sackett put it:
Basically, Open Web is a finder of passive candidates. Thousands of passive candidates! Candidates we could not have previously found in our Monster, CareerBuilder, LinkedIn subscriptions.  All in one place, with a ton of information you don't normally get on a resume.
Sackett's a 20 year veteran of recruiting and human resources. He's president at HRU Technical Resources, a $40M IT and Engineering contract staffing firm and RPO. He demoed Open Web at HR Tech and, as you might guess from his comment, he was impressed. He ended his review saying, "It's going to be a big hit!"
This morning, Dice unveiled a new interface for recruiters  that streamlines the way candidate profiles are presented, adds the Open Web detail for all of them, and, in a handy pulldown, provides a variety of ways of contacting the candidate; email, or Twitter, or texting, or phone, whatever Open Web's spiders find is there.
Last week, as Shravan Goli, president of Dice.com, walked me through the new interface and Open Web, he said the service has seen a steady increase in usage since its launch. 1,200 Dice customers now use it regularly.
What they like about it, he said, is the breadth and clarity of the content that Open Web pulls together. From the 50 social and professional sites, Open Web assembles lists of skills, interests and a sampling of the most recent contributions the candidate has made to each site. Imagine how long it would take you to do the same thing for just one candidate.
Perhaps the most convenient new feature is a browser extension for Chrome users. Download the applet and install it, then, when you pull up a candidate in your browser window — regardless of where the name came from: your ATS, a web site, a Facebook page — click the icon and Dice will open up the person's Open Web profile. Check out the video for more details.
"What we are trying to do, " explained Goli, "is really make it (Open Web) part of your natural workflow."
Currently, it's not a real time compilation. Like Google, Dice indexes the various sites, gathering its data by API or spiders. So it's possible a candidate might have something even fresher than what Open Web presents, but the difference is almost negligible. If it really matters, just click the link of the conversation that most interests you and you can see what else is there.
As Goli observed, "This product has evolved quite a bit" since it first launched. The development team is working on real time searching and aggregation, as well as other features, including some way of presenting both the quantity of a candidate's contributions and their quality.
"We are taking the approach of continuous development," Goli added, meaning as a new feature is ready it will be launched.
In his review, Sackett said he "found it works on much more than just IT, in fact, finding both engineering and some skilled trades types for orders we had with an automotive client." Since Open Web is limited (for now) to searching for IT candidates, Sackett's finds must have some tech skills or background. However, Goli says it won't be too long before Dice broadens Open Web to search for candidates in energy occupations like petroleum and gas. Dice owns Rigzone, a job site for the oil and gas industry.