In the aftermath of ERE's successful social recruiting summit two weeks ago, we might assume that talent acquisition professionals are on the cutting-edge of the latest and greatest in recruitment technology. Many best practice organizations are turning their backs on traditional sourcing tools in favor of mobile recruiting, social networking, and search engine optimization. One thing is certain: the talent acquisition system market is one of dramatic change and innovation. Both during strong and weak economies, investment in talent acquisition systems remains a priority for best practice companies looking to gain competitive advantage and secure a solid talent pipeline of both active and passive candidates.
When it comes to technology, companies have a unique advantage in today's economy. They are in a position to ask more from their current technology providers and competitive options abound. Solution providers are responding by offering more features both through product development and strategic partnerships with companies such as Jobs2Web and Jobfox.
Yet, such opportunities raise critical questions. Are more features truly better? Do companies need innovation or just improvements in existing features and functionality?
In March 2009, Bersin & Associates launched a research study about talent acquisition systems to answer these and many other questions. We conducted a survey to obtain opinions from talent acquisition customers about the performance of their primary talent acquisition systems. We also wanted to delve into customer satisfaction, implementation challenges, and general trends. The research initiative also included interviews and briefings with 17 talent acquisition vendors.
Highlights from this research will soon appear in our upcoming newsletter on talent acquisition.
Here's a brief preview of what we found.
Traditional Improvements
Our research found that many organizations are not interested in advanced features available in talent acquisition systems. Organizations need to consider their unique hiring needs and overall talent processes before feeling pressured by the glitz and glam of today's talent acquisition systems. Many companies want the basics — requisition management, improved user interface, applicant tracking, and search capabilities.
Improvements in ease of use and configurability remain a priority for the majority of organizations (see chart at the top of this article, or email me if you have trouble viewing it). Although not always a "must have," every survey respondent identified enhanced search features as a priority. The good news is that many of the solution providers are focusing on search functionality and enhancing to give users the ability to search for duplicate candidates and to save searches.
Even though many organizations today operate on a global playing field, more than 20% of respondents said they were not currently interested in global capabilities such as multi-language support, time zone support, or localization and currency support.
Innovative Improvements
However, our research also found that some organizations, such as 7-Eleven, are eager to bring innovation to their talent acquisition processes and looking for technology to support search engine optimization, web 2.0 career sites, and social networking.
The use of social media has exploded in the talent acquisition arena over the past few years. While most solution providers avoided this area in the past, they are beginning to see customer demand in support for features leveraging video, social networking, and RSS feeds.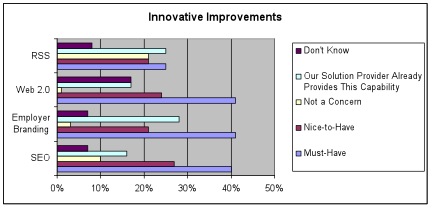 Forty-one percent of respondents indicated that Web 2.0 capabilities are a "must have" when it comes to advanced features. While Web 2.0 capabilities, particularly integration with social networking, are one way to improve employer branding, talent acquisition departments are also beginning to recognize the benefits of search engine optimization when improving the quality and volume of traffic to your corporate career site.
As today's talent acquisition system market continues to evolve, solution providers are making dramatic changes to their product roadmaps in order to meet the current and future needs of their customers. Companies are looking to technology solution providers to act as partners rather than suppliers, and listen.
I'd welcome hearing what changes would you like to see from your talent acquisition system provider.