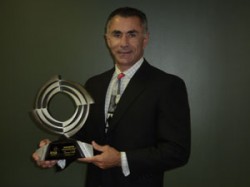 Describing recruiting as an "industry remarkably bereft of recognition," Ted Konnerth says it's time that the efforts of individuals who stand out for their ethics, their honesty, and the excellence of their work be honored.
That's why the International Retained Search Associates, a global corporation of boutique search professionals of which he's executive director, founded an award that Konnerth hopes will one day be to recruiting what the Heisman is to football.
The David Knutson Memorial Award for Lifetime Achievement in Recruiting is given to an individual, Konnerth said, who has dedicated his or her professional life to making "significant contributions to the art of recruiting, and maintaining the highest ethical standards to serve both the client and the candidate." Recruiters in all areas — corporate, retained, contingent, contract — are eligible.
Intended to honor its namesake, a NAPS Hall of Famer and co-founder of IRSA who died in 2011, the recruiter selected will be one who also best embodies Knutson's principles, says the award criteria: "being honest, direct, ethical, and human."Danny Cahill was the first recipient of the Knutson award. Owner of Hobson Associates, an executive search firm headquartered in Connecticut, Cahill is also one of the most in-demand recruiting trainers and speakers in the U.S.  His According to Danny website is a resource for both independent and corporate recruiters.
A Renaissance man, Cahill is a published author and playwright. He has won both the Maxwell Anderson and the CAB Theatre awards, and has had his plays produced off Broadway and elsewhere. He's written for CBS Television and for Muscle and Fitness magazine. His book, Harper's Rules, is a novel featuring a headhunter.
Cahill accepted the Knutson award at the National Association of Personnel Services conference in September 2012.
"He embodies everything that a recruiter should be," said Konnerth. "He's a professional with the highest ethical standards. He's trained thousands of other recruiters and he shares what he's learned. As an iconic search professional, and a friend of Knutson's, Danny Cahill was the perfect person to be the first recipient of the award."
Now, the search for the 2013 award winner is underway. Every recruiter is eligible. "The boundaries are virtually unlimited," Konnerth said. Individuals can nominate themselves or be nominated by others. Details are available here.