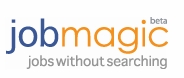 Jobmagic has joined the growing number of vendors offering social media recruiting tools.
The company, the successor to job-match provider Vitruva, released a tool set for recruiters and employers that simplifies the distribution of jobs to social networking sites and spiffs up their appearance with logos, pictures, and even embeds You Tube videos.
Most of the features automate the job distribution to social and business networking sites and via Twitter channels. The graphic elements and the interactive components are differentiators in this growing area of social media servicing.
A Jobmagic posting can include a mini-profile to give candidates some confidence that there's a real person somewhere out there who just might look at their application. Even better is a contact button that connects recruiter and candidate. I couldn't find out how that's done. IM would be really cool, but it's probably a post to the recruiter's or the company's Facebook wall.
Somewhere out there, the Vitruva matching engine comes into play, alerting candidates in the Jobmagic system when they're a good match to a job.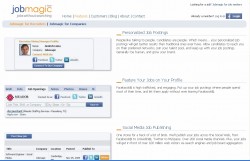 The other features of what Jobmagic is calling Social Media Optimization post the enhanced job listings to the various social networks, focusing, as you might expect, on LinkedIn, Facebook, and Twitter.
Jobvite launched a similar service not long ago. It does many of the same posting duties as Jobmagic, without the heavy branding emphasis. However, Jobvite leverages the network connections of recruiters and employees to seek out referrals in its own version of job matching. The bigger difference is Jobvite's metrics, which can track where every candidate comes from and the referral chain that snared them. There's even a free version called Jobvite Share.
If you don't need all that horsepower, but want to do more than simply upload jobs to the social nets, Jobmagic looks like it has the chops to make the task easier while adding some creativity to your typical job posting.