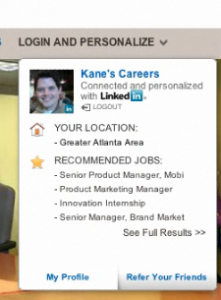 Employee referrals and social media were already merging more quickly than Brangelina. A new tool from Bernard Hodes aims to make referrals and social media more tightly knit, and more personalized.
Hodes started thinking about all this at the end of 2008, going into the beginning of 2009. It has spent the last three months developing a tool companies could put on their corporate career sites, giving job candidates a personal suggestion of the jobs that might be best for them.
Here's how it works.
A job candidate goes to a company's career site — or, perhaps its intranet if they're looking for an internal job.
As you see in the graphic at left (click to enlarge)

, a candidate can choose to log in to that career site using their Facebook or LinkedIn logins. An algorithm developed by Hodes is used to examine the candidate's current job, past jobs, skills, and so on, and recommend jobs on the company's career site that fit the job-seeker.
At that point, the candidate can click on one of the job titles to learn more about the job, getting an expanded description.
Also — see graphic at the right bottom, and again, click to enlarge — they get a list of their connections and the jobs that would best fit for those people they're connected to on social media sites. The candidate can click on a button to refer a job to a friend.
Kane Cochran, the director of digital innovation at Hodes, says that while a number of companies have built widgets for the use of social media in employee referrals, this is the first to marry career sites, social media, and referrals in a personal way, delivering jobs from a career site to employees based on their history and skills.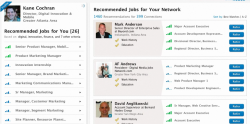 I told Cochran I was skeptical about how this would work with Facebook; Facebook profiles, I said, have a lot less job information than LinkedIn profiles. That, he says, is changing, with more people putting more employment-related histories on Facebook.
While the tool is now available to all, Hodes will first focus on selling the tool to clients who currently use its IQ system, as well as clients who use its recruitment advertising services, and then broaden its sales out to non-clients.