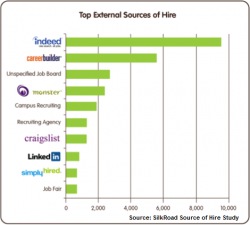 HR technology provider SilkRoad says jobs search site Indeed.com is the leading source of external hires for its 700+ customers, providing 42 percent more new employees than CareerBuilder, the #2 source.
Overall, the SilkRoad results show job boards accounting for a high percentage of hires that aren't either internal candidates, referred by employees, or come through the company career site.
SilkRoad pulled the source of hire data directly from its clients' OpenHire systems. Doing it that way, says SilkRoad, yielded data from "200,000 job postings, 9.4 million applicants, and over 100,000 hires."
In reporting the results on the company blog, SilkRoad said that because its OpenHire system automates candidate source tracking, "The metrics in this study offer a uniquely accurate measure of source effectiveness."
What SilkRoad found is that 55 percent of the total hires came from three sources: internal employee candidates, employee referrals, and company career sites. The balance of the candidates primarily came from job boards, which, in addition to Indeed and CareerBuilder, included Monster, Craigslist, LinkedIn, and SimplyHired.
SilkRoad noted that its data is more reliable than that used in other studies. "Prior research has been less than adequate, based on survey data from relatively small sample sizes," the company says on its blog.
Interestingly, the most recent source of hire study to be released — and the only one that has been publicly released for over a decade — tracks surprisingly well in some areas with what SilkRoad found. Released last month by the talent consultancy CareerXroads, the study found job boards provided a high percentage of all external hires.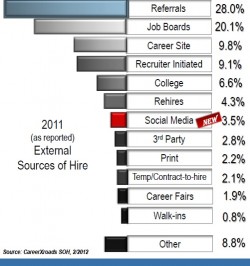 CareerXroads principals and report authors Gerry Crispin and Mark Mehler compiled their results from 36 responses to their survey. Yet, they found that internal candidates, employee referrals, and corporate career sites combined accounted for about 63 percent of the hires.
They reported their results differently, for instance counting employee referrals and corporate sites as sources of external hires and reporting the results individually. Still, when it came to job boards, their results show Indeed accounts for slightly more hires than does CareerBuilder, while Monster, Craigslist, and SimplyHired provide fewer hired candidates.
The numbers certainly don't line up anywhere nearly precisely, but having as much similarity as exists between the results offers recruiters and HR leaders firmer ground for their own comparisons. And more results can be expected. SilkRoad says, "Stay tuned as we continue to dig deeper into this data to share more findings on source effectiveness"