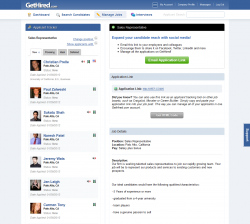 A new site launching today is described by its CEO Suki Shah as "Job board ATS video audio social recruiting."
It's called "Get Hired," it's backed by private equity investors, and it'll be free, at least for now.
The company, which has raised $1.75 million, has been building up a list of job-seekers and employers, and then contacting signers-up to send them a distinct URL to use in spreading the word via Twitter, LinkedIn, and so on. "The more friends you invite, the sooner you'll get access," Get Hired tells them.
To explain what this site does, it helps to provide a super-brief history. Suki Shah had started a company around the time you don't want to start a company — about when Lehman Brothers collapsed. Called Statacor Biosciences, it specialized in nutritional therapy and dietetics.
Not only were the times challenging, but Shah realized while hiring people that HR practices were, too — "even more archaic" than physician practices, he says. He found the job boards' prices to be "mind-blowing" and found himself inundated with many hundreds of applications when hiring for his new firm, which has grown to 25 employees in seven states.
So Shah had applicants record an audio, minute-long explanation about heart disease, to see how they'd sound to a patient, or to a sales prospect. Instead of hundreds of applicants he now had maybe 30 good ones for a job, and could go through them quickly. He added video, too.
This takes us into 2010. Shah felt that he was onto something. In 2011 it was time for his brother to run the other company and for Suki to focus on making money off of this video-audio-more-to-come business.
What is launching today is supposed to replace a job board and an applicant tracking system — particularly for a company that finds that about $400 for a job listing on a job board to be expensive.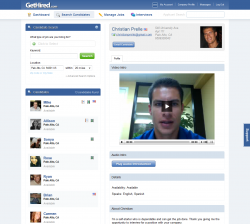 Job candidates can find jobs, record video or audio (Shah says that when given the chance to talk about their strengths on video or audio, they're anxious to), upload a resume, references, and more. They can see who has viewed their profiles, and can receive interview requests through the system.
For employers, the system can push jobs out to people using social media, a little bit like other systems you've heard about, like Jobvite. Employers can look at candidates' video or audio profiles, set up video pre-screening questions, ask text-based (written) screening questions, and interview people online. It also enables you to schedule interviews.
Thinking of all the other companies launched in recent years, I asked Shah: "Haven't other people built stuff like this?"
He smiled, and shook his head horizontally in the 'no' motion. "That's why I built it," he says. He says — quite excitedly — that the biggest job boards are "archaic." Their price, the number of resumes people are bombarded with, etc. – he feels it's all designed more for quantity than quality.