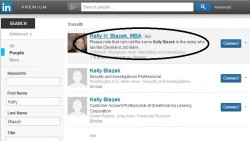 Being Kelly Blazek has got to be so hard these days. When other Kelly Blazeks have to change their LinkedIn profiles to say they aren't that Kelly Blazek, you just know things must be nasty for the Kelly who is that Kelly.
The Kelly who is that Kelly and the self-proclaimed "House Mother" of the Cleveland Job Bank became the target of international scorn after her nasty response to a 26-year-old marketing communications hopeful went viral. Besides denying Diana Mekota access to the popular local job bank, Blazek fired off a drippingly sarcastic email calling her "a total stranger who has nothing to offer me."
"Your invite to connect is inappropriate, beneficial only to you, and tacky. Wow, I cannot wait to let every 26-year-old jobseeker mine my top-tier marketing connections to help them land a job."
However, what Mekota did offer Blazek was a lesson in the power of social media. After she posted Blazek's intemperate response to Imgur, Reddit, and Facebook, the matter quickly went viral spreading via Twitter and other social media sites where it was picked up by CNN,  NBC, the BBC, and others.
What made the story so juicy was not only the nastiness of Blazek's response, but how it contrasted with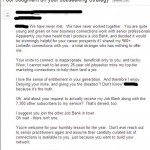 her comments when she accepted the "Communicator of the Year" award from Cleveland's chapter of the International Association of Business Communicators.
"I've always been a passionate advocate for keeping talent in NE Ohio, and we have so much of it in the region," she is reported to have said when she accepted the award in December. "I want my subscribers to feel like everyone is my little sister or brother, and I'm looking out for them."  The chapter has since removed the page with those comments from its website posting a notice saying the group "is actively reviewing the current situation with Ms. Kelly Blazek."
Since the news broke, Blazek has apologized to Mekota, and, in the last two days, to another job seeker who got a very similar type of rude brushoff, ignoring it until the Mekota email came along.
Blazek is now in Internet hiding. She deleted her blog, Twitter, and LinkedIn accounts.