Employers continued to add nonfarm jobs at a rapid pace in February, increasing payrolls by 235,000 during the month, blowing past predictions of a more modest increase.
Adding to economists' surprise, the U.S. Labor Department's monthly employment report also showed wages rising by 6 cents an hour, a penny more than January's 5 cents. Unemployment dipped slightly to 4.7 percent.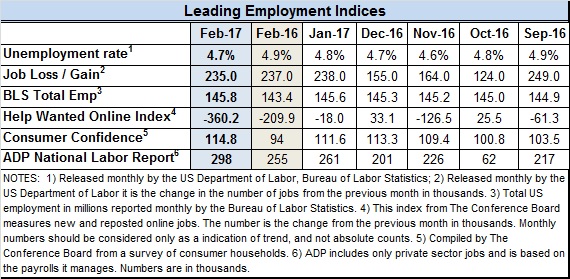 A Bloomberg survey of economists before this morning's report put the average of their jobs forecast at 200,000. A Marketwatch survey suggested the increase would be closer to 221,000.
"The economy is riding a wave of bullish sentiment post-election," said Andrew Chamberlain, chief economist at Glassdoor. "We're seeing strong labor demand across the board and no sign of slowing right now."
Since the beginning of the year, the economy added 473,000 jobs, according to reports from the U.S. Bureau of Labor Statistics. This compares to the first two months last year, which saw a 236,000 increase.
The back-to-back strong reports, as well as other market indicators, including the rising wages — averaging 2.8 percent over the last 12 months — increases the likelihood that the Federal Reserve will again raise interest rates when the board meets next week.
"They're ready to go," said Diane Swonk, founder and chief executive of DS Economics, told The New York Times. "They're clear as cellophane on this."
Yet, The Conference Board's Help Wanted On-Line Series, which counts job ads listed on job boards nationwide, declined for the second consecutive month. Job boards showed a 360,200 decline in new listing in February. In January, the decline was 18,000 new listings.
SHRM's survey of HR professionals found recruiting difficulty in February was less challenging than the same month last year. SHRM's LINE report said, "the recruiting difficulty index declined by 8.9 points in the manufacturing sector and 8.8 points in the service sector."
That doesn't mean recruiting was easy; the index has been increasing for several years. However, last month's increase was markedly lower than the year before.
Here are some of the gainers and losers from the Labor Department report:
The goods-producing sector showed strength in February, accounting for 95,000 of the new jobs. The sector was lead by the construction industry, which added 58,000 jobs. Manufacturing gained 28,000.
Among the service producers, educational services topped the list of jobs producers, adding 29,300 jobs, just ahead of healthcare with 26,800. Others:

Bars and restaurants +16,700;
Professional and technical services, a category that includes accounting, engineering, computer system design +20,300;
Temp staffing +3,100;
Financial activities +7,000. The strongest gain here came in real estate and leasing which was up 4,800;
Retail trade lost 26,000 jobs, lead by 19,300 cuts in employment by general merchandise and department stores.