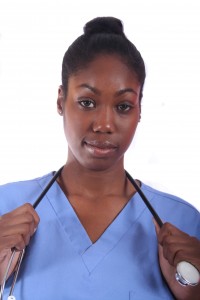 Today we pause in the hunt to source RNs to recognize nurses for the work they do and the dedication they bring to a profession that is among the most in-demand recruiting challenges in the U.S.
This is National Nurses Week, and today in particular, is set aside as both National Student Nurses Day and National School Nurse Day. In many of the English-speaking nations of the world, including the U.S. and Canada, May 6-12 is a week to honor professional nurses. The timing coincides with the May 12 birthday of Florence Nightingale, the founder of modern nursing.
Born 197 years ago into a wealthy, upper-class British family, Nightingale would be both amazed and pleased at how the work she did tending the wounded in Crimea has today become in the U.S. a profession of 3.1 million with responsibilities second only to the doctors with whom they work.
So essential are nurses to the healthcare system that the effort to hire and retain nurses is the most competitive among all professions, surpassing even that of tech professionals. Wanted Technologies, which gauges hiring demand by counting jobs posted online, reported in March that nurses again topped its list of most in-demand occupations.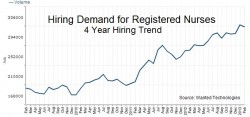 Wrote Wanted's Abby Lombardi:
More than 326,000 (nursing) jobs were available online during February, a 23% year-over-year increase. About 70% of these job ads were posted directly by employers, whereas staffing firms and third-party recruiting agencies only accounted for about 30% of ads for Registered Nurses.
Demand is only going to grow. By the end of the decade, 700,000 more nursing jobs will be created, according to the Bureau of Labor Statistics.
Will there be enough nurses to fill those jobs? No one is quite sure, though the evidence points to an even-more-acute shortage of nurses. Nursing schools had 259,100 students enrolled in 2011 in programs leading to a baccalaureate nursing degree, a number that has been climbing steadily for a decade. Still, "52,212 qualified applications were turned away from 566 entry-level baccalaureate nursing programs in 2012," reports the American Association of Colleges of Nursing. "The primary barriers to accepting all qualified students at nursing colleges and universities continue to be a shortage of clinical placement sites, faculty, and funding."
However, most nurses today began their career after earning a diploma or associate's degree in nursing. After a few years on the job, many went on to earn a bachelor of science in nursing. Although hospitals in particular have been increasingly insisting on a BSN, especially at the entry-level, momentum grew after the Institute of Medicine issued its 2010 Future of Nursing report. Among the recommendations was one that 80 percent of the nursing workforce have a BSN.
The emphasis employers are placing on a four-year degree — nearly one-in-four now require a BSN for new hires — and simply the demand for nurses explains the high employment rate for newly minted grads. The employment rate at graduation for nurses with a BSN, says the AACN, was 57 percent last year. Six months after graduation, 88 percent had a job in their field. For all college grads, only about a quarter of them had a job offer on the day they received their diploma.
RNs without a BSN have a tougher time finding their first job. According to the National Student Nurses Association 36 percent of newly licensed RNs in 2011 were not working as registered nurses in their first job. Surveyed four months after graduating, the largest percentage (68 percent) of those who were working as RNs were BSN graduates.