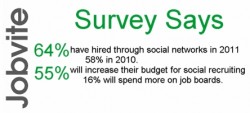 No longer just the shiny new object in the toolbox, social media recruiting has become an integral part of sourcing and hiring.
A Jobvite survey out this morning says 89 percent of the respondents to its poll (most of them not Jobvite customers) said they are either already using some form of social media in their recruiting or will in the next year. They are also having success; 64 percent said they've actually hired people through a social network.
None of this is surprising to anyone who has followed the development of social media. From their roots as a teenage clubhouse, social media networks today have become so ubiquitous and so much a part of American life that half of all adults use at least one of the sites. Pew Research Center says that last year, 48 percent of those over 35 are on a social network.
Facebook is far and away the most popular network. Pew says 92 percent of everyone using a social network use Facebook. No wonder then that 47 percent of North American companies are spending money to reach Facebook's 700+ million users via PPC. Thousands, perhaps even tens of thousands of businesses — Facebook doesn't release the actual number of the so-called Fan Pages — have set up sites.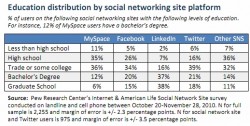 Smaller in number, LinkedIn however has a better-educated demographic. It's members are older and better educated; 75 percent hold a bachelor's or graduate degree. On Facebook, the equivalent percentage is 35.The average age on LinkedIn is 40, versus 38 for Facebook. However, there are more early-stage career participants on LinkedIn. It has 36 percent of those 23-35 versus 32 percent for Facebook.
"Social media tools are one of the top three most powerful recruiting tools, along with referral programs and mobile technologies," said no less an authority than Dr. John Sullivan.
Coincidentally, or maybe not, social media, referrals, and mobile usage have a close, symbiotic relationship. A third of all American adults have a smartphone, says a just out Pew survey, and 87 percent of them use it to access the Internet or read email. Two-thirds of them do so every day. A Google survey reports that almost half the smartphone owners use them to access a social network at least once a day.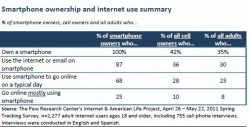 As a result, recruiters have been taking advantage of that capability using custom apps, tweets, or vendors to make it easy for company fans, employees (who, on Facebook, are fans), and followers to refer jobs to their own friends and followers.
With 70 percent of the respondents telling Jobvite that referrals are a better fit, it's no surprise they reported hiring 1 in 10 of them vs. 1 in 100 of other applicants.
Not all networking occurs online, Right Management reminds us. The ManpowerGroup unit says its own study of its almost 60,000 individual transition clients over the last three years found that 4 in 10 found their job through networking. Last year, 41 percent used traditional networking to make the connection that led to their job. Only 4 percent got their job purely through an online network.
Job boards, according to Right Management, continue to hold their own, accounting for 25 percent of the jobs found by the firm's transition clients. That's also what CareerXroads' annual Source of Hire survey found.
While the study didn't include a specific social networking category, it did find that more than half the companies use social media exclusively or as a significant part of their direct sourcing programs.
Jobvite, of course, is one of the growing number of vendors that automate much of the mechanical parts of social media recruiting. It focuses on referrals from employees whether or not they are on a social network, and from fans and company followers who are.
Bullhorn, a technology powerhouse in the staffing space, has been pushing into social media in a big way. Monday, it released Bullhorn Reach from beta, four months and 10,000 registered users after launch. As I detailed a few months ago, Reach does a lot of the same automating and posting of jobs to social sites that other services do, but it also tracks what the people in your network are doing and alerts you to the possibility they may be preparing to "go active" in their job search.