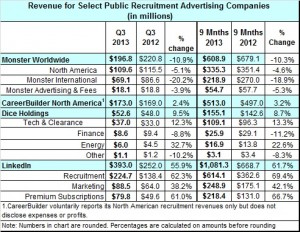 For the first time in a while, the Monster had good financial news to report this morning. Not only did it swing to a profit in the third quarter, but it earned more per share than the analysts were predicting.
The global careers company reported earning $11.3 million during the quarter, which translates into 11 cents per share, not including one-time expenses, which are typically not counted in Wall Street earning analysis. Analysts had estimated the company would earn 8 cents a share.
In the same quarter last year, Monster lost $184.2 million, or $1.73 a share. Most of that was the result of the company's sale at a loss of its ChinaHR careers operation and related expenses.
Announcing the results in advance of an early morning conference call with analysts, Monster's Chairman, CEO and President Sal Iannuzzi credited stabilization of the recruiting environment in North America, as well as tight control of expenses for the third quarter showing.
Later, during the conference call,  he said, "In this quarter, revenue from most channels remained flat sequentially, indicating a bottom had been reached here in North America. We are encouraged by these signs and are cautiously optimistic it will will continue, providing support for some sequential revenue growth in our U.S. business in Q4."
Investors reacted positively to the news, bidding up Monster's stock to just over $5 a share, a 15.26% jump. Besides the earnings announcement, the stock was also  buoyed by Monster's sale of a minority stake in JobKorea to equity firm H&Q Korea  for $90 million. It also helped that the company said it expected to earn between 9 and 13 cents a share in the current quarter, which is more than Wall Street's estimates.
Monster also said it was expanding its relationship with Finland's Alma Media, operator of a number of career sites in the Baltics and central Europe. The joint venture combines Monster's money losing operations in the Czech Republic, Hungary and Poland with Alma's properties, giving the venture dominance in some parts of Europe.
Despite, however, the bottom line turnaround from last year, revenue in each segment was down, both over last year and from the second quarter. Compared to 2012, the first nine months of the year has seen Monster's revenue decline 10.3%. Particularly hard hit has been its international revenue, which is off 18.9% compared to last year.
CareerBuilder, Monster's largest competitor, is privately held (media giant Gannett is its largest shareholder) and doesn't disclose most of its financials. However, it does publicly announce its North American revenue which grew in the third quarter by 2.4% over 2012. In the first nine months of this year, CareerBuilder had North American revenue of $513 million. Monster's total was $335.3 million.
Compared to the other publicly held career sites — Dice Holdings and LinkedIn — Monster is the only one to see revenue continuing to decline. LinkedIn, which became a public company only two years ago, already has recruitment revenue larger than Monster's. Dice, which operates multiple niche sites, is up 8.7% over 2012.