Efforts to sell all or part of Monster Worldwide have ended and the company is now focused on growing its business globally.
Monster's Chairman and CEO Sal Iannuzzi told analysts this morning during a conference call reporting the company's 2nd quarter financials, that "conversations did conclude" during the March-June period, which prompted Monster to resume its stock repurchase program.
The effort to sell Monster — technically a review of its "strategic alternatives" — was first announced in early 2012. Though multiple inquiries were made, and at least a couple competitors were rumored to have had talks, no purchase offer was ever made public. Monster did shutter some operations and sold its stake in ChinaHR.
Iannuzzi didn't entirely put away the "For Sale" sign, noting that as a public company Monster is always ready to discuss opportunities. However, the company is now looking toward the future.
"We feel good about where we are," Iannuzzi said, coyly telling analysts, "We have a number of very strategic initiatives on the way." "I don't want to be mysterious about it," he said, but was, declining to offer all but the vaguest hint that these are "social and mobile initiatives."
It will be several months before Monster is ready to unveil these initiatives. When the company is, he promised to host an "analysts' day" to brief Wall Street. Until then, Iannuzzi added, he didn't want to tip his hand to Monster's competitors of which there are many, including LinkedIn, which will report its 2nd quarter results later today.
LinkedIn is expected by most analysts to show strong growth. The consensus is the company will report earnings per share of 31 cents, almost doubles last year's 2nd quarter EPS of 16 cents.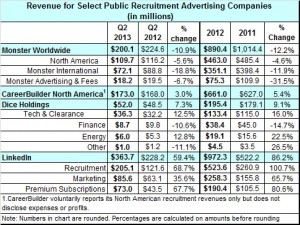 Monster beat Wall Street earnings expectations, but by reducing expenses. The company reported revenue of $200.1 million versus consensus expectations of $207.49 million. It earned 9 cents share, while analysts figured it would earn 8 cents.
Revenue was down in North America, where the U.S. is by far the largest contributor, and internationally on a year over year basis, and was down even when compared to the first quarter of this year.  Overall, the company brought in 6 percent less in revenue than it did in Q1 and 11 percent less than in Q2 of 2012.
Stopping far short of predicting any sort of significant turnaround, Iannuzzi, and CFO James Langrock, said the U.S. and some parts of Europe are showing signs of "stabilization" and even some growth. Small businesses in the U.S., the primary users of online e-commerce (rather than negotiated contracts that large employers typically have) drove up that part of the business by 8 percent. Germany and the United Kingdom are also improving.
"Companies," said Iannuzzi, "continue to hire. Just cautiously."