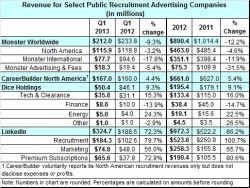 Shares of LinkedIn and Monster moved in opposite directions today, although both careers sites met or exceeded, or, in the case of LinkedIn, blasted through, Wall Street's expectations. Monster was up; LinkedIn is sinking.
Both companies reported their first-quarter financial performance today.
Reporting before the market opened, Monster said it earned 8 cents a share on revenue of $212 million. It was the first time in seven quarters the company beat Wall Street's revenue expectation, which was $210.5 million. That surprise, and the company's announcement it may buy back up to $200 million of its stock, drove the price up almost 9 percent.
LinkedIn reported earning 45 cents per share on revenue of $325 million. That was 15 cents higher than Wall Street's estimates average of 31 cents per share earnings and well above its $317.1 million revenue estimate. What hurt the company was its Q2 forecast of revenue of $342 million to $347 million. Analyst estimates averaged out to $359.2 million. The stock lost 10 percent of its value in after hours trading.
However, talking just about percentages masks the difference in scale between the two companies. Monster's stock closed at $4.67. LinkedIn closed at $201.67, dropping to $181.43 after the company released its financial report.
There's also a difference in expectations. LinkedIn has been reporting double-digit percentage increases in revenue since going public in May 2011. Monster has seen several quarters of double-digit declines in one or more categories. The first quarter is no exception; Monster's $212 million in revenue was 9.3 percent lower than the same quarter last year. Even if the company meets Wall Street's expectations for each of the next three quarters, it will end the year behind 2012.
LinkedIn, on the other hand, said it expects to end 2013 with revenue between $1.43 billion and $1.46 billion, an increase of $20 million over its previous estimates.
CareerBuilder, privately owned by a group of communications companies, said its first-quarter revenue from North America was $167 million, a 4 percent improvement over last year. That's the only number the company releases.
Outside of the implications of all these numbers and forecasts for investors, underlying them is the clear message that job growth is going to be a challenge this quarter and very likely right through the end of the year.
As Monster's Chairman, CEO, and President Sal Iannuzzi acknowledged during a conference call with analysts, "The uncertain global economic environment, which we were anticipating when we initiated our restructuring two quarters ago, is continuing and is having a negative impact on customer demand." At another point in the call he said, "Demand is light, and in some cases, for example Europe, is definitely contracting and contracting heavily at this point."
On the other hand, LinkedIn recruitment is expanding. Revenue from is Talent Solutions topped $184 million, an 80 percent increase over the same quarter last year. The sector, which accounted for 54 percent of LinkedIn revenue last year, now is at 57 percent.
If CEO Jeff Weiner is concerned about the global employment picture, he gave little hint of that during LinkedIn's analyst call this afternoon. Instead, he and CFO Steve Sardello talked about the company's growth plans, the continuing rate of new registrations (two per second on average), and the increasing engagement of its 225 million members, nearly two-thirds of whom are now from outside the U.S.
The use of mobile, though accounting for only a small part of the 11.1 billion page views in Q1, is growing and since the end of the quarter new versions of some of its applications have been introduced. In the coming months, Weiner said, the marketing sector of the company's sales will get more focus and should grow. (Though up over Q1 of 2012, the marketing segment was the only one of LinkedIn's revenue groups to be lower in 2013 than in the fourth quarter of last year.)
Monster's Iannuzzi also said the company has plans for new products and features. "We have identified a number of new initiatives, which we believe will further significantly enhance our value proposition to clients and will create substantial opportunity for Monster. You may expect to see this being introduced in the months ahead." He gave no details as to what those might be.
He did, however, say that while the company is still for sale and "conversations" are continuing, "there is no certainty that they will result in a transaction." If they don't, then the company will move ahead to buy back $200 million worth of its shares.