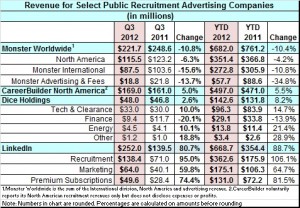 Careers site operator Monster Worldwide is announcing this morning a corporate restructuring that will have the company pulling back from some of its global markets, particularly China where it be looking to sell its ChinaHR job site.
Company officials discussed the restructuring this morning in a conference call with investment analysts after releasing Monster's 3rd quarter financials showing revenue down in every category, but still managing to earn 9 cents a share exclusive of one-time expenses.
The bad news in the financial report is that revenue was down almost 11 percent overall, with the biggest hit coming from operations outside North America. Revenue there was down 15.3 percent. But even in North America revenue declined, down 6.3 percent. In contrast, CareerBuilder reported it grew its North American revenue by 5 percent to $169 million.
Bookings, a measure of future revenue, declined 12 percent. Not including ChinaHR, bookings in the third quarter were $213 million versus $249 in 2011's third quarter.
Without company Chairman, CEO and President Sal Iannuzzi, who was absent because of a death in the family, other senior executives sketched the broad outlines of the restructuring, which they said would save about $130 to $135 million a year.
Executive Vice President Tim Yates and CFO James Langrock said that besides the sale of ChinaHR, the company would also likely shed operations in other developing markets. Latin America was one region mentioned during the call, but no specific countries were discussed.
While the sale of developing market operations is one option, others could include joint partnerships or other arrangements, where Monster would retain some rights, but be relieved of expenses.
Officials said the company was also continuing its discussions about selling itself. Earlier this year, Iannuzzi announced Monster would pursue strategic alternatives, Wall Street speak for a sale. Today's restructuring doesn't affect that effort, and may actually enhance it, making the company leaner, and more focused on areas where it generates most of its revenue. That's a point Bloomberg News noted in its report on the announcement.
ChinaHR is one of the leading job sites in China, which is the largest potential job market in the world. Monster bought into ChinaHR in February 2005, acquiring a 40 percent stake for $50 million. A year later it bought another 5 percent.
In early 2008, after plans for an IPO fell through, Monster acquired the remainder of the company for $174 million. In announcing the deal, Monster said, "This acquisition in one of the fastest growing recruitment markets in the world reflects Monster's expanding international presence and reinforces Monster's position as the leading global online recruitment resource."
This morning, Yates acknowledged that the outlook for China, and some of the other markets where Monster has a presence, "is somewhat lower" than when the company entered them. Selling ChinaHR and selling or seeking operating partners or other options for other markets, including in Latin America, Yates said, was a "tough decision," but "the right decision."
As a consequence of its China decision, the company took a one time earnings hit, writing down $225 million in accounting adjustments to account for the pending sale. Monster expects the sale in the next 12 months. The write down, and some other one-time expenses, reduced Monster's GAAP financials to show a loss of $1.75 a share. Excluding those expenses, which is how Wall Street typically looks at financial reports, Monster earned 9 cents per share to beat analysts' estimates of 5 cents a share. The company's $221.7 million in revenue was 10.8 percent lower than for the same quarter in 2011, and was also below the $234 million estimate.
As it refocuses on North America and Europe, Monster expects to save $50 million in operating costs. How, exactly, wasn't detailed, but Langrock told analysts there would be some layoffs, primarily in the company's development areas. Proceeds from the ChinaHR sale may be used to reduce company debt, enhance marketing, and bolster sales.
For the current quarter, Monster predicts it will earn between 5 and 10 cents a share and 29 to 34 cents a share for the whole year.