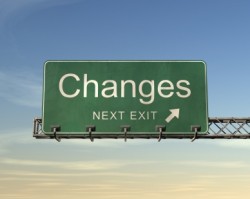 Of all of the issues that are discussed in the ERE communities, at ERE Expos, and at other HR and Recruiting conferences, the one that I find most important is rarely discussed: leading and managing change. This skill is probably one of the most important a Recruiting and Staffing or HR Manager should have in their toolkit.
In our communities, we're constantly coming up with and discussing great ideas about initiating change, but all of that is worthless unless we can execute and implement those ideas. In this new year, change is a real buzzword — but rightly so! Because we have to change and flex every minute of the day, planning for difficult times and good times alike require excellent change management skills. And as someone who has learned some hard lessons over the course of my 25-year career in not knowing how to manage change, I speak from experience.
For instance, several years back, when I was head of staffing for a large, multibillion dollar company, the whole company participated in a global reengineering initiative. In HR, we decided to take advantage of this effort to implement some changes of our own. We decided to combine all of the staffing functions in the separate business units into a centralized, shared-services model. As the leader of the staffing area, I figured that since the whole company was going through change, there was no need to have any additional communication with our clients about our staffing reorganization — after all, it could be considered as simply another element of what we were all going through. Thus it wasn't until the head of HR of a business unit and my boss were sitting in my office, complaining about my team's dwindling performance in the wake of this change, that I realized just how important it is to communicate extensively about, and have a comprehensive plan for, implementing change.
It's not that I didn't communicate at all about what was happening; it's that I didn't "get it" in terms of what was necessary with respect to engaging others and making them "partners" with me in this change. I was subjecting my plan to what we like to call "Death By PowerPoint" — I was going around with my little PowerPoint presentation tucked under my arm, informing everyone as to what was going to happen versus truly engaging and communicating with them.
Though the change was ultimately implemented, the cost was high — people we wanted to keep within our recruiting organization left and some of our customers were alienated.
Thus when I was asked to facilitate a panel at the ERE Expo Spring 2009 this coming April, I could not think of a more important subject in today's climate of almost constant change. So the question I introduce in this article (and which we will cover more thoroughly in our panel entitled "Managing Change: A Dialogue With Recruiting Leaders on Leading Through Change" in San Diego at the upcoming ERE Expo Spring 2009) is "What are the key elements involved in successfully managing change?"
The first step in this process is to realize that whenever change is involved, there's always something called "S.A.L.Y." in the room. SALY stands for "Same As Last Year." SALY is that urge in all of us (in some stronger than others) to resist change. It's the urge to say "Let's stick with what we did last year," to cling to the familiar, the comfortable. So before anything happens, it's always important to realize SALY's in the room.
However, knowing this can help frame how to begin to address implementing change. The other important thing to realize is how people deal with change. My experience is that, though everyone deals with change differently, generally people meet change with the following reaction I call S.A.R.A.H.: Shock, Anger, Resistance, Acceptance, and Help.
So knowing this, what are some guidelines for leading people through change? This topic is so important I decided to reach out to other recruiting leaders for their thoughts. I have asked some really well-spoken, highly experienced people to join me on our upcoming ERE Expo Spring 2009 panel and I have asked them some of their thoughts on change management.
"Not having an effective change management plan is usually the death of projects," says Rodney Moses, vice president, Global Talent Acquisition, Coca-Cola Enterprises. (CCE is the world's largest bottler and distributor of Coca-Cola products.) According to Moses, CCE is a constantly changing environment in which they are rolling out new processes on a regular basis. In fact, change is so frequent, they have developed a Global Change Management Program, including a guidebook. But as far as plans go, even that isn't enough. "For each change", says Moses, "we have to have a change plan and internal and external change communications plans. Without those plans, not only is it confusing for everyone but it ends up costing the company money."
So in order to manage change, we have to have at least one, but perhaps several, change management plans. This was the beginning of the mistakes I made in my scenario above. Since I figured our change would be part of the larger change plan, I did not feel the need to create a separate one for us in staffing.
But because change in an area as vital as staffing affects so many, it really can't be successfully implemented without a plan. An effective change management plan will focus on many levels, the broad as well as the specific, and will include an emphasis on everything from the organization, to your team, to individuals. In fact, the act of putting together the plan will be enormously helpful because it will not only require identifying who the stakeholders are and who will be affected, but it will also require strategizing about how to approach and engage them in the implementation. Importantly, having a plan will enable you to plan for mistakes, which is a vital and valuable part of any new venture. How will a plan give you the opportunity to make mistakes? Because the cornerstone, foundation, and lifeblood of any change-management plan is perhaps the most vital element in the whole change-management scenario: Communication.
"When we were planning to start up a corporate recruiting function, we engaged people from the very beginning", says Vicki Perry, director, Strategic Staffing, for Avery Dennison Corporation, the world's leading manufacturer of pressure-sensitive labeling and other retail, office, and packaging products. "By using focus groups, we not only got people involved who were going to be affected and shared our vision and proposed process, but then we listened and prompted them to help us figure out how to really make this work."
She adds: "Since this was a new concept for everyone, it was critical to engage stakeholders and then communicate, monitor, and adjust our process continuously. It's a constant process of educating hiring managers, HR partners, and key business leaders and getting feedback. When communicating we try to mix it up and entertain, so people remain interested. During our focus group meetings we used interactive voting devices to keep the audience engaged in answering questions and giving feedback. In our rollout of the new process we made a video showing the recruiting process in action with a touch of humor to keep it fresh. In our monthly written communication we would hide a question related to the recruiting marketplace and give a prize to the first few people who answered it; we would also use a 'Myth Of The Month' whereby we debunk the latest 'myths' that have surfaced with respect to the new processes. Through the use of hiring manager and candidate surveys, we are constantly monitoring to determine what is or isn't working properly, and then adjusting accordingly."
But sometimes, even that level of communication isn't enough. "You know that old rule of when you pack for a trip, you lay out all your clothes, and then take away half? I think of change management communication as the opposite of that," says Aziz Chowdhury, VP, Talent Management, for Baker-Hughes Corporation, the global leader in oilfield engineering services to the energy industry. "No matter how much I plan to communicate with respect to change management, I always take that concept and double it."
"Here's why this is important", Chowdhury continued. "Whatever the change is you're implementing, it's not about it being a good or the right idea, it's about bringing everyone along with you. One of the things people in staffing management often don't understand is that communications is not just about making sure you and your ideas are heard, it's about making sure everyone is with you. It's a bit of a paradox: in order to do what you want to do, you need to focus less on that and more on the communication needs of those affected. Because in the end, that will help you get to where you want to go. You need to focus on what your clients and stakeholders need to hear and know so that they'll arrive at where you want them to be."
Aziz's perspective comes from years of talent acquisition experience in both international and domestic environments, but in particular from his current experience of repositioning the role of recruiters at Baker Hughes from those with a more hands-off, removed "sourcers-only" approach to more hands-on, vested, and partnership-oriented recruiters, with a greater ownership stake in the entire hiring process.
Nonetheless, this underscores yet another mistake I made in my scenario above: I was so focused on communicating my change and insuring I was heard, I didn't focus on the communication needs of my clients and stakeholders.
However, when it comes to managing change, there is nothing more important than communication. And as with a change management plan, constant communication gives you the room to make mistakes.
In summary, here are some guidelines for leading people through change:
Prepare for the change before it occurs
Provide a clear description of the change and a picture of success
Find and remove obstacles before the change occurs
Allow adequate time for people to accept the change
Involve affected people in planning the change
Provide motivation for people to embrace the change
Find and use resources and people that support the change
Allow the change to be shaped by ongoing feedback
Provide clear implementation objectives for all people involved in the change
Continually monitor the change and adjust resource levels
Reinforce the new behaviors through formal and informal methods
View leading others through change as an ongoing process
So please join us for our panel discussion at ERE Expo Spring 2009 where I will lead Rodney, Vicki, and Aziz in further discussion and detail into this topic and provide more specifics on the above. Between now and the Expo, I know a lot of change management challenges will confront you. I welcome your thoughts and questions about managing change (just post in the comments section of this article), and I will look forward to incorporating them in future articles and in our panel discussion at the Expo.
Remember, though there are a thousand great ideas out there, only when you've developed a plan, and successfully executed on that plan (and SARAH has met SALY!) will you have developed perhaps the most important skill there is as a Recruiting and Staffing/HR manager and improved your value in your organization. Happy New Year and welcome to the year of change!