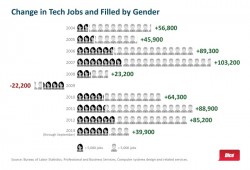 Are there women in tech?
Yes, but the truth is, not many. Certainly no where near their proportion to women in the workforce. Women are barely a quarter of the IT professionals, yet they account for half the civilian workforce. Women earn 60 percent of the bachelor's degrees, but fewer than 20 percent earn a degree in computer science. Twenty-five years ago, 37 percent of the computer science degrees went to women.
In some specialties — cyber security, for one — men outnumber women 9 to 1.
There's no shortage of studies and theories to explain the imbalance. Everything from cultural influences to lack of role models, peer pressure, and even parental disapproval have been cited as contributing causes.
Lyla Perrodin, CIO of MRIGlobal,who was lucky enough to be encouraged by a high school teacher to enter the field, says :
Young females can encounter social pressure not to excel in math and science. They lack female role models to show them that you can be a "techie" and still be "cool."
Recruiting tech professionals of any sex is hard enough; recruiting women engineers, as the numbers demonstrate, is so much harder still. Still, there is some light, though no one says it's anywhere near the end of the tunnel. Dice, the tech career site, analyzed tech hiring data and found that through September, women filled 24,100 of the 39,900 new tech jobs.
"Companies have been focusing on getting more women into technology for a long time," said Shravan Goli, Dice president of Dice. "Those efforts appear to be paying off."
True enough. In the decade covered by the Dice study the number of women techies finding jobs each year has more than doubled. However, the number hasn't changed appreciably since 2010. In 2012, about 30,000 women were hired into tech jobs. Men, though, got the other 55,000 positions.
To create a more diverse tech workforce, recruiters have to be more aggressive in both sourcing and selling, says Sarah Allen, CEO of Blazing Cloud, a software development firm.
"If you're interviewing people for your job, and you haven't interviewed a woman, don't hire until you've at least interviewed one woman. And if your recruiter can't get you resumes that are diverse, find another recruiter," she told an NPR interviewer.
Her advice is not as harsh as it might seem. Wanted Technologies took a look at the
computer science gender gap finding that the percentage of women possessing the most in-demand tech skills is on a par — or nearly so — with the percentage of men.  Numerically, there are far more men than women; 80 men and 3 women for every tech job opening, says Wanted.
Against those numbers, arts and crafts marketplace Etsy decided that training junior women made more sense, especially if it wanted to attract senior women coders. So the company partnered with Yammer and 37Signals to offer scholarships to a three-month long Hacker School summer session in 2012. Etsy hired six women from the class, which, in turn, cause other women to take notice of the Etsy culture shift. Now, Etsy has 20 women, a 500 percent increase from before the school. Better, but with 130 engineers, the imbalance is still there.
It should be obvious by now that creating a more balanced engineering and tech workforce is not only difficult, but requires a commitment to the long term. Training, mentoring, and relationship building are critical to supplement recruiting efforts. Here are some places to look and organizations that can help:
America's tech schools are also looking to increase their enrollment of women in computer science courses. Twenty universities are participating in the National Center for Women and Information Technology's Pacesetters program, which gives special help to women tech students. Though little more than two years old, the program has already added 1,600 female recruits to tech programs.