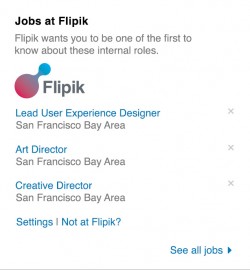 What's now an old standby — the "jobs you may be interested in" on LinkedIn — is getting a tweak.
Companies with 100 or more job slots can now do what LinkedIn's calling "Internal Job Recommendations."
So if the company is Johnson Controls, I might see "jobs you may be interested in" from Johnson Controls on my LinkedIn page if I'm an employee of the company. These jobs could also appear elsewhere, like the LinkedIn emails telling me about open jobs, or on the LinkedIn home page while I'm perusing the Zig Ziglar quotes and looking at the various word teasers to see how smart I am not.
Johnson Controls, by the way, is a real, not hypothetical, example. Johnson Controls' Michael Ganiere, who's speaking in San Diego about big data, says his company tested the inclusion of internal jobs in the "jobs you may be interested in," and got more internal applications than it did from its own internal job postings. 

Here's a LinkedIn blog post where the company talks about the internal jobs you may be interested in, as well as some changes to "Recruiter."